Ellen Courtright Wins Resident of the Year Award
Release Date: June 26, 2009
Mrs. Courtright, one of the first nurses to establish the now thriving Newton Memorial Hospital, has maintained a life of giving.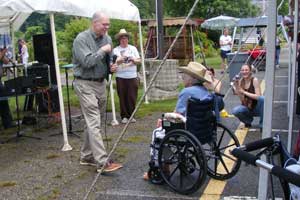 Ellen Courtright Wins Resident of the Year Award
New Jersey Association of Homes and Services for the Aging has named Ellen Courtright Resident of the Year. This award recognizes a resident of a housing or health care community for his/her charitable work, volunteer efforts or other personal endeavors on behalf of the residential or general community in which he/she resides.
Mrs. Courtright is a happy and helpful 99-year-old resident who not only contributes to the Sussex County Homestead, but to the greater community. Mrs. Courtright was one of the first nurses to establish the now thriving Newton Memorial Hospital. She has maintained a life of giving even as her health has slowed her down in the past several years.
Ellen remains active by giving advice in a website based advice group called the Elder Wisdom Circle, which has published a book in the last year. She held the position of Treasurer of the Resident Council for the past year. Ellen also helps the activity staff to maintain various paper work projects and assists the Homestead Auxiliary with folding and stamping their mailings. Ellen puts together pamphlets for The Office of Public Health Nursing, clips coupons for the staff, and single handedly assembled the 140 staff thank you gifts and cards for the holidays and during National Homes for the Aging Week.
Ellen works at the Resident Council bake sales, and not only offered her help in establishing and running the new resident store, she also named the store! This past holiday season when Sussex County's food pantry needed help filling a bus with food, Ellen and the Resident Council members voted to donate money from their funds to buy food. Mrs. Courtright hand delivered the food herself to the Stuff the Bus promotion and she stated, "When so many of the county residents help us all year, this is the least we can do so others have food during the holidays."
We congratulate Ellen Courtright on winning the Resident of the Year Award!