Florio Receives Distinguished Service Award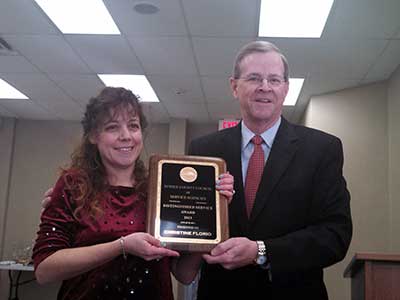 Christine Florio is presented the Distinguished Service Award by Dr. Richard Lecher
The Sussex County Council of Service Agencies (CSA) awarded its 2013 Distinguished Service Award (DSA) to Christine Florio, Sussex County Mental Health Administrator and Human Services Advisory Council Coordinator. The Distinguished Service Award is presented for outstanding performance in human services work as a member of CSA, in the recipient's career with a human services agency, and in volunteer service to local, state, and national organizations. This year marks the twenty-sixth year in which the Council has presented this honor recognizing the contributions of a member of the Sussex County human services community.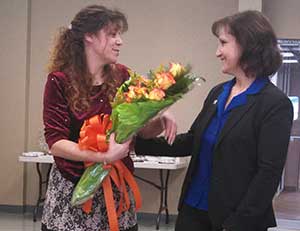 Ms. Florio has been committed to the field of human services for over 15 years. In 1998, she started working with youth and adults with developmental disabilities and emotional disabilities at Willowglen Academy. She was promoted from Residential Program Instructor to Day Program Instructor to Senior Day Program Instructor to Child Care Counselor Supervisor within two years. Christine supervised two group homes within this supervisory role and functioned as a member of a therapeutic team in an intensive treatment program.
In 1999, Ms. Florio began working at Samaritan Inn, a local non-profit agency that provides shelter apartments and support services to homeless and at-risk families and individuals in Sussex County. For three years, she provided case management and supportive services to people in need which included, but was not limited to, budgeting, parenting, life skills development and assistance with housing and job searches.
Christine began working for the Sussex County Department of Human Services in 2003 and is currently employed there. Her first job was Sussex County Municipal Alliance Coordinator where she was responsible for the oversight of municipal alliance volunteers in each of the 12 Sussex County municipalities in regards to development, coordination, and management of substance abuse prevention programs. Shortly after, Christine became the Sussex County Human Services Advisory Council Coordinator and, within a few years, took on another role as the County Mental Health Administrator.
"Christine is a true advocate for the citizens of Sussex County. Each day she brings her passion for her work and service to those who are in need of human services. She is truly deserving of the Distinguished Service Award and joins a long list of human service leaders from within Sussex County", said Stephen Gruchacz, Administrator for the Sussex County Department of Human Services.
Ms. Florio has been employed by the Sussex County Department of Human Services for over ten years. She is responsible for completing Needs Assessments and Priority Plans for the county to determine funding recommendations, managing over 10 human service contracts, and operating as a liaison between the state, county, and local level in the area of human services. She administers numerous county advisory boards and committees, provides professional assistance and support to many social service agencies and coordinates resources and programs for Sussex County. From 2006 to 2011, Christine served as a member of the Sussex County Money $mart Week planning committee. She is committed to providing quality, comprehensive services to the community through the Sussex County Department of Human Services.
The Sussex County Council of Service Agencies (CSA) is a non-profit organization that fosters networking and collaboration among over 50 local government and non-profit agencies. CSA members meet monthly to share information about local human service needs and available resources to assist Sussex County residents. The first CSA Distinguished Service Award was presented to Dr. Richard Lecher, Executive Director of SCARC, in 1987 and annual DSA awards have been made ever since.