9th Annual Touch-A-Truck May 4 at Main Library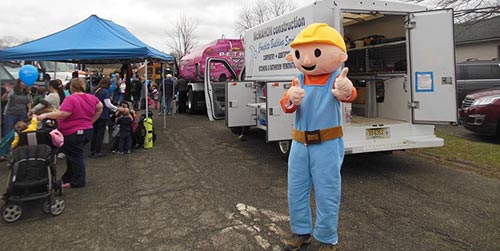 Bob the Builder is a perennial favorite at Touch-A-Truck Day
Frankford, NJ - The Sussex County Main Library in Frankford will host its 9th Annual Touch-A-Truck event on Friday, May 4 from 11 a.m. to noon. Families are invited to get up close and personal with a wide variety of emergency vehicles, buses and trucks. There were over 250 attendees at last year's event, climbing in and out of vehicles while their operators answered questions about the how they work and the tasks they perform.
"We look forward to this event every year," stated Youth Services Librarian Rachel Burt. "You might not expect children to get excited about a school bus, but for the little ones who have older siblings that get on the bus every day, the chance to sit in a school bus themselves can be the most exciting thing here. And for kids who ride the bus daily, pretending to drive giant dump truck or a backhoe is equally cool."
Touch-A-Truck is held, rain or shine, in the side lot of the Main Library, located at 125 Morris Turnpike in Frankford. Come any time between 11 a.m. and noon, no registration required.