Case Management is available to any family in Sussex County who has a child under the age of 22 with special health needs.

New Jersey has made a commitment to assist families caring for children with complex, long-term medical and developmental disabilities. For these "special needs" children, prompt attention to their condition early in life helps assure they will lead healthier lives when they are older.

To learn more please visit the New Jersey State web site
Sussex County Special Child Health Services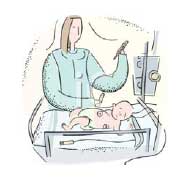 Imagine the joy at the birth of your baby! Now imagine the doctor telling you your "perfect child" was born with Downs Syndrome, Cerebral Palsy, or a small brain; or that your child has developed diabetes, has a brain injury or Autism. The doctor also tells you there is plenty of help and leaves you to discover what that help is and where to find it.
Every county in New Jersey has a Special Child Health Services (SCHS) Unit. By state law any child who is born with or develops any abnormality or disability is reported to the State Birth Registry. Part of the purpose of the registry is to notify SCHS so a case manager contacts the family and offers assistance. Families may also be contacted when the Social Security Administration notifies SCHS of any family applying for assistance from the SSI (Supplemental Security Income) program. Other referrals come from schools, the Early Intervention program once they are discharged at age 3, the Social Security office if a family does not qualify for SSI, hospitals, and families searching the internet and phone books.
When a case manager contacts the family an assessment of the family's and child's needs is done. Once the case manager is aware of the needs, resources and referrals are provided to assist the family. Family's needs cover a large span including medical needs, financial needs, therapy needs, educational needs, and emotional/social needs. The case manager becomes a source for parents to contact when they are unsure of where to turn. In order to help the parents, many times the case manager must seek assistance from state contacts and other agencies.
Case managers assist with obtaining hearing aids and orthotics; payment of catastrophic bills; support groups; information on new programs and seminars for parents; home nursing care; referrals to programs such as WIC (Women, Infant and Children Supplemental Nutrition), heating assistance, DDD (Division of Developmental Disabilities), and the Board of Social Services; insurance issues; transition to adulthood services; family support programs such as respite; advocacy; and emotional support as parents are able to speak openly with a professional. Parents/guardians elect to have occasional contacts or can agree to have a permanent file opened for continuous monitoring. There are no fees for any of the SCHS services though some referral programs do have fees attached.
Some recent examples of help for the parents include the reinstatement of Medicaid for a very sick child after wrong forms were sent by the program to the parent. This child was without insurance for a month through no fault of the mother. Necessary care was given and the unpaid bills were later covered when the insurance was reinstated due to the persistence of the case manager working with the state and Medicaid contacts. Another family was denied hearing aids for their child due to an insurance company's misunderstanding of the new Grace's Law and needed the assistance of the case manager working with the state representative to correct the misunderstanding. The child was then able to get his hearing aids. Applications to assist with catastrophic bills were completed for 14 families for a total assistance of $266,638.00 during a year's span. These examples represent major assistance by the case management unit but smaller assistance is given every day due to routine monitoring and phone calls.
Special Child Health Services is the place where the families discover what help there is and how to find it. Additional information can be obtained from:
Kathy Baklarz RN MSN
Special Child Health Services
973-579-0370 ext 1360
Email: kbaklarz@sussex.nj.us