As part of ongoing efforts to keep residents, businesses and officials up-to-date on recycling and solid waste information in Sussex County:
SCMUA provides information for
E-Waste Management in Sussex County
Please feel free to post & share this information and the linked pamphlet with other Sussex County residents, businesses and civic groups.
must be recycled
. All other electronics are considered "Non-Covered Electronics", and are not required to be diverted for recycling.
The Sussex County Municipal Utilities Authority (SCMUA) will continue to recycle all types (both "Covered" and "Non-Covered") of electronics at the Resident's Convenience Center. Staff will segregate the materials at the Bagged Garbage Area and the bulky waste disposal area.
The SCMUA also sponsors four (4) free E-Waste Collection Events. 2015 dates are: March 21st, May 9th, August 1st & October 10th. More information @ www.scmua.org.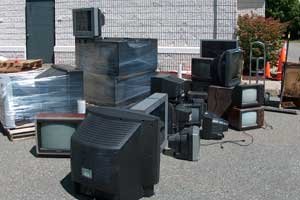 Manufacturers and Retail establishments that sell "Covered Electronics" are required to develop E-Waste Management Programs for consumers to return the "Covered Electronics" to them. Please check directly with these businesses for their individual collection/recycling plans.
Please refer to the pamphlet or www.scmua.org for more information about the new NJDEP E-Waste Management regulations and sorting procedures.