State Parks and Forests
---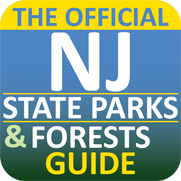 Get the Department of Environmental Protection smartphone application to help plan for and make the most out of your trips to New Jersey's state parks, forests and historic sites. Press Release. Get the app here.
Become inspired to explore NJ's natural and historic world with this FREE mobile app-the only official app of New Jersey that allows you to access the most up-to-date park information such as upcoming events, weather conditions and safety alert communications, while taking in the scenery at your favorite area. Choose a park to visit by location, or by activity such as camping or fishing.
---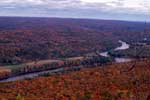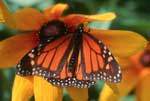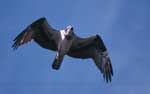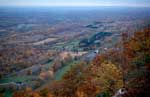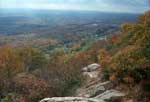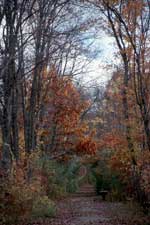 ALLAMUCHY MT. STATE PARK

– Fishing, hiking, cross country skiing, mountain biking, horseback riding, hunting, boating, and rock climbing 9,200 acres. Stephen Section. This 222 acre area includes more than a mile of the Musconetcong River. Picnicking, camping, playgrounds, hiking, horseback riding and fishing. Also the historic Morris Canal towpath. Address: 800 Willow Grove, Hackettstown, NJ 07840 908-852-3790 E-Mail: stephens@allamuchy.com
HIGH POINT STATE PARK

– Located in the extreme northwest corner of Sussex County along the Kittatinny Mountain Ridge, this park of 15,000 acres includes the highest point in New Jersey (1,803 feet above sea level). Facilities provide for swimming, boat launching, picnicking, hiking (Appalachian Trail), fishing, camping, cabins. The High Point Monument dominates the summit affording a panoramic view of New York, Pennsylvania and New Jersey. The High Point State Park Monument is 220 feet tall. Kuser Natural Area, Interpretive Programs, hiking trails available all year. Winter sports include x-country skiing, snowmobiling, snow shoeing, ice skating. Address: 1480 State Rt. 23, Sussex, NJ 07461 973-875-4800 High Point Cross Country Ski Center, 973-702-1222, located within High Point State Park www.xcskihighpoint.com. Offers groomed trails, snowmaking, lessons and rentals, limited sales and food. E-Mail: hpsp@warwick.net
HOPATCONG STATE PARK

– Located on Lake Hopatcong, at the southern most end of Sussex County. The Park is 112 acres in area. The Park provides facilities for picnicking, bathing, fishing and boating. Address: PO Box 8519, Landing, NJ 07850-8519 973-398-7010.
KITTATINNY VALLEY STATE PARK

-Includes 3,350 acres primarily located in Andover Borough and Township. The State Park includes the Andover-Aeroflex Airport, which is operated by the NJ Forest Fire Service. There are facilities for hiking, mountain biking and horseback riding on the Park's dirt roads and old logging trails. There is also fishing and hunting. The Paulinskill Valley Trail and the Sussex Branch Trail are part of the Park and the NJ State Trails System. Address: PO Box 621, Andover, NJ 07821 973-786-6445 E-Mail: kittvlly@warwick.net
STOKES STATE FOREST

– Located on the famous Kittatinny Ridge this 15,734 acre forest is typical of the finest mountain country that New Jersey has to offer. There are facilities for swimming, picnicking, hiking (Appalachian Trail and others), camping, fishing and hunting. Address: 1 Coursen Road, Branchville, NJ 07826 973-948-3820
SWARTSWOOD STATE PARK

– A large portion of this 2,280 acre State Park located in Sussex County is comprised of two lakes which offer great recreational opportunities in a natural environment. The park is well known for its excellent fishing, boating, picnicking, and camping facilities. In addition to several miles of natural trails, there is a one-mile long handicap accessible paved trail through a mature forest. Address: Swartswood State Park, PO Box 123, Swartswood, NJ 07877-0123 973-383-5230.
WAWAYANDA STATE PARK

– Located in the northeast corner of Sussex & Passaic Counties, in Vernon & West Milford Townships, this 20,000 acre mountain woodland tract has excellent fishing and may be enjoyed in the 255 acre Lake Wawayanda. Canoes, kayaks and rowboats are available for rent, and facilities for picnicking, hiking, mountain biking and bathing are open to the public, as well as the Wawayanda Iron Furnace and the Appalachian Trail. Swimming Memorial Day to Labor Day in guarded swimming area and fishing and hunting with NJ licenses. Address: 885 Warwick Turnpike, Hewitt, NJ 07421 973-853-4462 FAX 973-853-1383
E-Mail: wawayanda@nac.net