Artwork Recognizes Children's Mental Health Awareness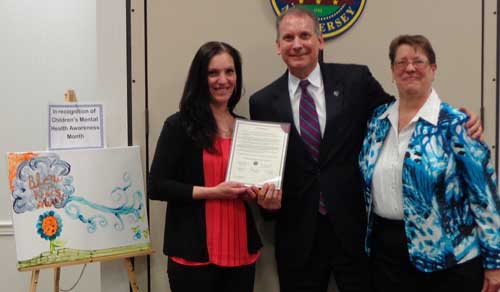 (From left to right) Rachel Helt, Executive Director of Family Partners; Dennis J. Mudrick, Freeholder Deputy Director; Barbara Miller, Sussex County Youth Services Coordinator
[Newton, NJ] The Sussex County Board of Chosen Freeholders issued a Proclamation designating May 8th, 2014 as Children's Mental Health Awareness Day. On display during the meeting were three paintings done by members of the Youth Partnership. The Youth Partnership is a program run by Family Partners of Morris and Sussex Counties that provides an opportunity for youth to come together to get peer support, participate in social activities, volunteer in the community, learn leadership skills, and just have fun.
Rachel Helt, Executive Director of Family Partners accepted the Proclamation from Freeholder Deputy Director Dennis Mudrick at the April 23rd Freeholder meeting. She thanked the Board of Chosen Freeholders for recognizing the importance of community awareness of children's mental health issues, early intervention to help children before problems escalate, and erasing the stigma that is often attached to those suffering from a mental illness.
The month of May is designated as National Children's Mental Health Awareness Month; therefore, the artwork will be on display in the lobby of the Sussex County Administrative Center from now through the end of May.