Division Director Completes Multi-System Integration Certificate Program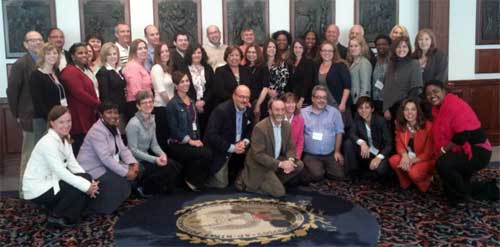 In April 2013 Melissa Latronica, Director of the Sussex County Division of Community and Youth Services, was one of 40 individuals from throughout the country that was accepted into the Juvenile Justice and Child Welfare: Multi-System Integration Certificate Program, conducted by the Center for Juvenile Justice Reform (CJJR) at Georgetown University's McCourt School of Public Policy. This weeklong program of intensive study focused on improving outcomes or preventing youth that crossover from the child welfare system into the juvenile justice system. The goal of the certification program is to improve multi-systems integration and collaboration to serve this very vulnerable population, by focusing on policies, programs and local practices.
"We are so proud of Melissa's achievement and participation in this prestigious program. Melissa is one of a select few to be granted acceptance into the program, which certainly reflects positively on her competence in the field of youth services. The training she received and experience of interaction with national leaders will certainly benefit the residents of Sussex County," said Stephen Gruchacz, Administrator for the Sussex County Department of Human Services.
The purpose of the Multi-System Integration Certificate Program is to bring together current and future leaders to increase their knowledge about multi-system reform efforts related to crossover youth, improve the operation of their organizations in serving this population, provide an opportunity for the development of collaborative leadership skills, and create a mutually supportive network of individuals across the country committed to systems reform.
As part of the program requirements, participants develop a Capstone Project. The Capstone Project is a set of actions each participant will design to initiate or continue multi-systems reform efforts during the twelve-month period following the completion of their Certificate Program session. Ms. Latronica has returned with a vision to work with the local systems partners to develop a program that identifies youth that are currently involved in child welfare that are at-risk of crossing over into juvenile justices. It is the goal to link these juveniles to early intervention services to prevent them from entering into the juvenile justice system. The first step is data collection and identifying indicators that would identify potential crossover youth. These youth would be linked to services for life skills, anger management, employment and early intervention substance abuse.
After the Capstone Project is developed and approved by Georgetown University, participants receive an Executive Certificate from the University and are offered technical assistance from instructors to aid in the implementation of their project. Additionally, alumni of the Certificate Program become part of the CJJR Fellow Network.
Some of the information contained within this article is referenced from: http://cjjr.georgetown.edu/certprogs/public/certificatepublic.html.