NJ Council on Special Transportation Recognizes Debbie Scott as "2013 Dispatcher of the Year"
[Newton, NJ] The County of Sussex is pleased to announce that Sussex County Skylands Ride Omnibus Operator Debbie Scott was awarded "2013 Dispatcher of the Year" by the New Jersey Council on Special Transportation (NJ COST), at their 18th Annual Community Transportation & Paratransit Expo, on Friday, September 20, 2013. The Expo was held at the PNC Bank Arts Center in Holmdel, New Jersey. Sussex County Skylands Ride is the County's transit system providing public and demand response transportation to Sussex County residents.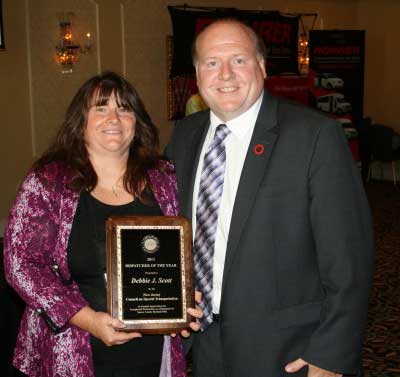 "We congratulate Debbie for her outstanding service to the citizens of Sussex County. Skylands Ride provides vital services throughout the County for citizens who otherwise may not be able to attend medical appointments, travel to and from work and get their children to childcare services," said Stephen Gruchacz, Administrator for the Sussex County Department of Human Services.
Debbie Scott has been employed with Skylands Ride since 2000. She began her career as a driver and was selected for the position of dispatcher/scheduler in 2007. Debbie is devoted to her position and demonstrates a superior commitment to the delivery of efficient and friendly service. She is truly an asset to the team. Skylands Ride is extremely proud of Debbie and appreciates the dedication and enthusiasm she provides to her job and community every day.
The New Jersey Council on Special Transportation (NJ COST) is a statewide not for profit advocacy association that has provided information and support for community-based transit services for over 32 years. Every year since 1989, NJ COST has recognized those who have excelled in the industry. Nominations are received for five categories of recognition: Driver, Dispatcher, Maintenance, Administrative and Outstanding System of the Year.
The 2013 nominations were reviewed by the Community Transportation Association of America's Region 2, United We Ride Ambassador and a team of representatives from the states of Virginia, West Virginia, Delaware, Pennsylvania and Washington, DC.
Sussex County Skylands Ride has been recognized by NJ COST on several occasions. In 2009 Program Coordinator John Jackson and Supervising Omnibus Operator Linda Phister were each awarded "Administrative Employee of the Year." In 2010 Skylands Ride was selected as the "Outstanding System of the Year."
The Sussex County Department of Human Services, Division of Social Services congratulates Debbie Scott and the Skylands Ride team for their continued commitment to the safe and friendly delivery of transportation in Sussex County.
###