17,000 Acre Milestone for Sussex County Farmland Preservation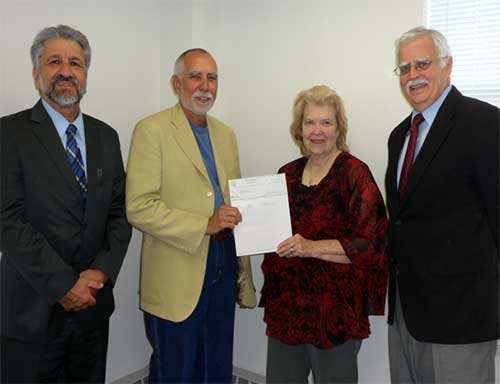 Pictured from left to right are: Robert Mattia, esq., David Lane, Jane Brodhecker (SCADB Chairperson) and Dennis McConnell.
Preserved farmland in Sussex County has now surpassed the 17,000 acre milestone after a closing on June 25, 2013 of the David Lane farm in Wantage Township. The farm, located on Unionville Road, is a field crop operation located in the heart of the largest farmland preservation project area in Sussex County. David has been working with the Sussex County Agriculture Development Board since March 2011 to preserve his 120.796 acres. The total acres preserved county wide now numbers 17,112.726 +/-.
Acreage has been protected through this program in 15 Sussex County municipalities and Wantage has the most preserved farms (57) on 6,670 acres. State statistics from the time period May 1985 through June 30, 2012 show Wantage as having the fourth highest total acreage preserved Statewide; this does not include farms preserved with only County funding. It is also #10 in the top thirty of farm numbers preserved; again, not including farms preserved with only County funding. It also ranks #4 in towns with over 1,000 acres preserved.
Since the program's inception in the late 1980's, Sussex County has been a strong proponent of preserving agricultural lands through both the State and County programs. For the most part, preservation is accomplished as a joint effort between the State Agriculture Development Committee and the County. During the State's 30 year history, there was a brief time when State dollars were depleted and the County stepped up and continued preserving farms with 100% county dollars. Thirty-eight farms were preserved in this manner. Subsequently, some of those parcels were processed into the State program when monies once again became available. There have been 167 farms in Sussex County that have closed; actual protected farms now number 174 after several went through a State subdivision of premises process.