Sussex County Department of Human Services Releases 2012 County-Wide Human Services Needs Assessment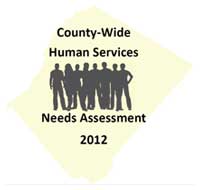 The mission of the Sussex County Department of Human Services is "To improve the quality of life of Sussex County residents through an integrated approach to comprehensive services that meets the needs of individuals, families and communities." Committed to its mission, the Department of Human Services, partnering with the Human Services Advisory Council, took the lead in completing the 2012 County-Wide Human Services Needs Assessment. The purpose was to identify the current human service needs of Sussex County residents. Secondary data, survey results and consumer/community focus groups were essential components in the research used in the assessment. The testing phase was conducted with a human service providers group in which common themes were noted, priority areas were identified and recommendations for action were crafted.
Four facets of research created the foundation for the Needs Assessment. The first component was comprehensive, reliable data extracted from objective sources such as the U.S. Census, NJ Department of Education, NJ Department of Health, Uniform Crime Reports, NJ Department of Labor and Workforce Development, Social Security Administration and the New Jersey Center for Health Statistics.
Secondly, there was the creation and distribution of a community survey to assess the current human service needs in such areas as transportation, affordable housing, childcare and employment at a living wage.
The third component was the facilitation of focus groups for specific target populations including individuals with mental illness, the elderly, single parents, families at risk of abuse & neglect and aging out youth, among others.
Lastly, a strategic planning session was held in which human service providers in Sussex County were invited to participate as a group to review the evaluation of data, identify priority areas of need and create recommendations for action. Focus group outcomes, Sussex County profile data and results from the Human Services Needs Survey were presented to the group.
At the conclusion of the analysis, the group utilized the data presented to prioritize the areas of service to be recommended for expanded investment. The following eight areas emerged as top priorities:
Transportation
Mental Health Services
Subsidized Childcare and Special Needs Childcare
Respite Care
Affordable Housing
Employment Opportunities
Increased Access to Healthcare and Dental Care
Community Education of Existing Resources and Increase Access to Human Services by Providing a More Efficient Delivery System
In October 2012, a Request for Proposal (RFP) was released by the County of Sussex for Grant In Aid dollars for the year 2013. Community agencies are able to apply for funding through this RFP for the top five priority areas identified above. The Sussex County Human Services Advisory Council, in partnership with the Department of Human Services, will be forming a planning subcommittee to identify and implement strategies to address the remaining identified priority areas.
For more information or to receive a copy of the 2012 County-Wide Human Services Needs Assessment, please contact Christine Florio, Human Services Advisory Council Coordinator at (973) 948-6000 ext. 1381 or cflorio@sussex.nj.us