Gang Awareness Training
May 14, 2008
Gang activity is on the rise in New Jersey. It is a big concern for all law enforcement agencies in Sussex County. Lt. Ed Torres of the N.J. Juvenile Justice Commission, Gang Management Unit, understands these concerns and did an outstanding "Gang Awareness" presentation on May 14, 2008 at the Sussex County Public Safety Training Academy. This presentation was hosted by the Sussex County Juvenile Detention Center and was open to all County law enforcement agencies. Over 70 people attended, including staff from the Juvenile Detention Center and Youth Shelter, local and State police departments, Probation and the Prosecutor's Office.
Lt. Torres is widely known for his knowledge and expertise in gang activity. He has been with the Juvenile Justice Commission for over 19 years, and began working with gangs in 1993. He has trained over 17,000 people on gang awareness.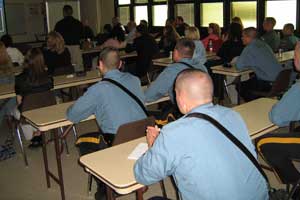 The training consisted of both a lecture and power point presentation which included photos of different styles of graffiti, hand signs, tattoos and clothing styles. Lt. Torres shared stories of gang related incidents and a little history of various gangs. He explained what the colors mean to each gang and why they wear them. He also recited different types of slang used by gang members.
Everyone who attended showed appreciation to Lt. Torres for giving the opportunity to be educated on such an important issue. The Juvenile Detention Center was thanked for organizing and hosting such a successful training. We all look forward to future training opportunities.