County Sponsors Volunteer Income Tax Assistance Program
Release Date: December 19, 2007
The Sussex County Division of Senior Services will once again sponsor the Volunteer Income Tax Assistance (VITA) program for income eligible county residents.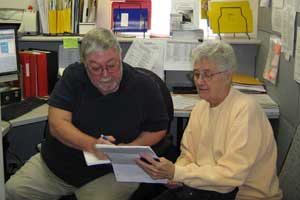 Assistance in filing basic federal and state tax forms is available to those with income levels of $50,000 or below.

Assistance will also be provided for filing Earned Income Tax Credit (EITC). The EITC is credit for people who earn low-to-moderate incomes. It can reduce taxes and can result in a refund. The EITC enables working families and individuals to keep more of what they work for. Volunteers will also assist with various property tax rebate programs.

There will be multiple locations throughout the County where people can obtain assistance through the VITA program including: Montague Municipal Building, Sussex-Wantage Library, Vernon Senior Center, Sparta Senior Center, Liberty Towers, Franklin Senior Center, Hopatcong Civic Center, Hamburg Municipal Building, Project Self Sufficiency, Sussex County Division of Social Services, Sussex County Division of Senior Services,the Sussex Bank locations of Franklin, Sparta, Newton and Wantage and First Hope Bank's Andover branch.

Additional volunteers are needed to assist with this valuable program. Training will be provided by a Certified Public Accountant and a representative from the Internal Revenue Service on January 17 and 19, 2008. The VITA program will begin in February and run until April.

If you would like to volunteer, have questions about the VITA program or wish to make an appointment for income tax assistance, please call the Division of Senior Services at 973-579-0555.