Sussex County Division of Health on the Cutting Edge of Hygiene Technology
Release Date: December 03, 2007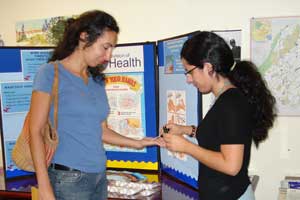 (Newton, N.J., December 3, 2007) The Sussex County Division of Health, Office of Environmental Health has acquired a state-of-the-art hygiene detection system to aid during the inspection of restaurants and food handling facilities. Through the use of Adenosine Triphosphate (ATP) bioluminescence technology, the Charm FireFly2 system can detect unseen food and microbial residue remaining on processing equipment, even after cleaning. Product residues, particularly foods, contain huge amounts of ATP, as well as microbial contamination, which also contain smaller amounts of ATP. Adequate cleaning should significantly reduce all sources of ATP. The detection of ATP therefore provides a direct, relevant and reliable indicator of cleaning efficiency and hygienic status that can help ensure food safety. Beginning in 2008, County Health Inspectors will utilize the Charm FireFly2 system to evaluate the general sanitation of surfaces, as well as the hygienic conditions of food-handler and restaurant worker hands. According to the Centers for Disease Control and Prevention (CDC), there are 76 million food-borne illnesses each year resulting in more than 300,000 hospital admissions. Handwashing is the most effective way to reduce the spread of germs that can cause food-borne illness and other diseases.
The Charm FireFly2 system has been piloted at various health education events throughout the county as a way to educate the public about the importance of good and frequent handwashing. The system was first used during Children's Day at the New Jersey State Fair in August 2007.
Participants volunteered to have their hands swabbed by a wand resembling a large Q-tip. The system analyzed the samples and produced "germ counts." Readings ranged from under 30,000 to over 1 million! Children and parents alike were shocked to see how many "germs" they had on their hands. "The system has proved to be an effective way to show people the importance of handwashing. Often, seeing something in a visual form sparks a much faster "Aha!" moment than one might experience by just reading a brochure or flyer," stated Health Educator, Natalia Muñoz.

| | |
| --- | --- |
| | |
| Pictured above: Health Educator, Natalia Muñoz, showing teens the results of their hand-swabs at Red Ribbon Day at the Sussex County Community College. | |
The system was also used at the Project Self-Sufficiency Health Fair in September and most recently, at Red Ribbon Day at the Sussex County Community College in November of this year.
If you would like a demonstration of the Charm FireFly2 system or a presentation on handwashing, please contact Natalia Muñoz, Health Educator, at Sussex County Division of Health at 973-579-0370.