AUXILIARY DONATES FOUNTAIN TO HOMESTEAD
Release Date: November 02, 2007
The Sussex County Homestead Auxiliary donated a lighted fountain in the pond next to the Sussex County Homestead for the enjoyment of residents, staff and families.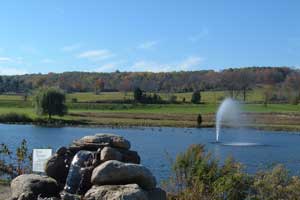 Residents of the Homestead asked the auxiliary for a fountain during an auxiliary meeting.

The auxiliary has been working for the past two years to make their dream come true and on October 30, 2007 their dream came to fruition.

One resident, Eugenia L. when speaking of the fountain said, "There was a rainbow in the spray (from the fountain) the next morning.

It makes you want to run underneath the fountain."
This fountain has been paid for by funds raised by the Sussex County Homestead Auxiliary through Tricky Trays, yard sales and other fundraisers. As Jake Lighten, administrator of the Sussex County Homestead said, "This event marks a three year effort that has enhanced the lives of our residents. I am privileged to have been part of this auspicious occasion and look forward to many more". .
The garden/patio area has become a Memory Garden. Families, volunteers and staff have donated trees, benches and shrubs in memory of loved ones. In addition to the fountain, there is a walkway leading to a circle of pavers with seating along with a small ornamental waterfall. Future plans include the installation of a pavilion near the pond providing a shady area with wheelchair accessible tables and benches for residents and families.
The Sussex County Homestead Auxiliary is grateful for the support it has received from both individuals and the business community in Sussex County. The support has been overwhelming and the auxiliary and the Homestead, like all the non-profits in Sussex County are grateful for the continual and generous support of the community.