Graham and Lazzaro to Lead Sussex County Board of Chosen Freeholders in 2016
The Sussex County Historic Court House in Newton was the setting for the Annual Reorganization Meeting of the Sussex County Board of Chosen Freeholders on Monday, January 4, 2016. Highlights of this year's Reorganization were the swearing in of Carl F. Lazzaro and Jonathan M. Rose as freeholders for terms of 3 years each. Also were the appointments of George F. Graham and Carl F. Lazzaro to serve as Director and Deputy Director, respectively, of the Freeholder Board in 2016. Director Graham was sworn in by the Honorable Fredric G. Weber and Deputy Director Lazzaro was sworn in by Congressman Scott Garrett.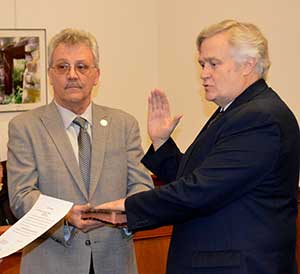 Freeholder Director Graham was elected to the Board in November, 2013. He resides in Stanhope with his wife Gail and has three adult children. Director Graham is the owner of a company specializing in construction project management and government relations. He is a former Stanhope Borough Councilman and has also served as Council President.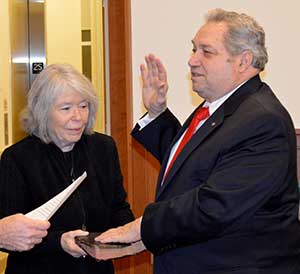 Deputy Director Lazzaro was elected to the Board of Chosen Freeholders November of 2015 and sworn in January of 2016. Carl and his wife Pam of 34 years reside in Fredon Township and have four grown children Andrew, Danielle, John and Jeff and several grandchildren. Carl has been a resident of Sussex County for 44 years and owns an insurance business in Fredon Township. He served on the Newton Board of Education, NJ School Board, Board of Directors, Exec Board of Directors NJSIAA, and was part owner of retail gift shop. He served as President of Newton Rotary and President and Vice President of Sussex County League of Municipalities. Carl also served on the Fredon Township Planning Board, Fredon Township Committee and was Deputy Mayor and Mayor of Fredon Township as well as serving on the Fredon Fire Department and served as Captain and Lieutenant of Fredon EMS. He also serves as Chaplain of the Sussex County Firemen's Association and the Branchville Businessmen's Club.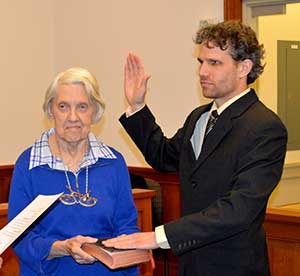 Freeholder Jonathan M. Rose is sworn in.
Also returning to the Freeholder Board in 2016:
Phillip R. Crabb is employed by Pfizer and lives in Franklin Borough with his wife Sally and has three children.
Jonathan M. Rose was born in 1979 in Sussex County. He and his family lived in Wantage, NJ during his childhood. After graduating from High Point Regional High School, he enrolled at Rutgers University in New Brunswick, NJ where he majored in computer science, mathematics and physics. After graduating from Rutgers in 2001, Jon returned to Sussex County. He started a business called Farious Net Solutions. FNS is a high tech company specializing in building and maintaining networks and computer systems for small to medium sized businesses.
Richard A. Vohden, a full-time farmer for the past 20 years, is the owner of Pequest Valley Farms in Green Township where he resides with his wife Faith.

During remarks Freeholder Director Graham quoted Henry Ford, "Coming together is a beginning, staying together is progress, working together is success." I am happy to see many facing here tonight including the employees of Sussex County. We serve the residents of the County to the best of our ability. We will go forward with respect for the people we serve and with the people who serve.

I would like to thank my family and the elected officials who have educated me along the way.

Freeholder Lyon of Morris County spoke of a quote of George Patton that I believe is true, "If we are all thinking the same way then someone is not thinking." We have different ways of approaching things. We can disagree without being disagreeable. That is the platform of this County going forward.

Thank you to all who have joined us tonight.
Regular meetings of the Board of Chosen Freeholders are held on the second and fourth Wednesdays of each month (unless otherwise noticed) at 5 p.m., in the Freeholder Meeting Room, Sussex County Administrative Center, One Spring Street, Newton, New Jersey. The public is invited to attend.
For additional information on Sussex County Government Departments and Offices, services, news, and events, please visit www.sussex.nj.us.