County Alliance Coordinator Presents on Dangers of Misusing and Abusing Prescription Drugs
"The Municipal Alliance Committees (MAC) are the heart of each community's prevention efforts. The committees bring together representatives from local governmental bodies, the educational system, the health care community, law enforcement, business, labor, religious leaders, civic associations, social entities and the community at large. The MAC's determine the kind and scope of prevention initiatives that are best suited for their communities. GCADA evaluates and approves County Alliance Plans in conjunction with the Division of Addiction Services, makes recommendations in regard to the awarding of grants, and distributes the grants to the County Alliances. The County Alliances in turn support and provide for the inclusive network of grass roots volunteers who embody the 528 Municipal Alliances. " (Mission Statement of the Governor's Council on Alcoholism and Drug Abuse)
As part of the community outreach of the Municipal Alliance, the Rotary Club of Wallkill Valley invited Nick Loizzi, Sussex County Municipal Alliance Coordinator to their weekly meeting. Mr. Loizzi gave a presentation to the group about the dangers of misusing and abusing prescription drugs. He cautioned the group about securing their prescriptions, particularly prescription pain killers, which have been found to be a significant contributing factor in overdose deaths and the alarming rise in heroin abuse in our area.
He cited several key statistics from agencies and publications as examples of the dangers of prescription drug abuse:
7 million people misuse or abuse prescription drugs - U.S. Department of Health and Human Services;
Every day, 2,500 teens use prescription drugs to get high for the first time - U.S. Drug Enforcement Administration (D.E.A.);
55% of child related calls to poison control centers were the result of a child getting into and ingesting prescription drugs that were not prescribed to them - Journal of Pediatrics;
60% of teens who abused prescription drugs did so before the age of 15 - U.S. Drug Enforcement Administration (D.E.A.);
5,500 Americans start to misuse prescription drugs everyday - U.S. Department of Health and Human Services;
63% of teen believe prescription drugs are easy to get from their family or friends - U.S. Drug Enforcement Administration (D.E.A.);
40 people die from prescription drug overdoses across the U.S. every day - U.S. Department of Health and Human Services.
Loizzi gave the group some key advice on what they could do to ensure that their prescription drugs are not included in these alarming statistics. Among them was to keep track of all prescriptions they have and to keep them in a safe place. If you have prescription pain killers, such as Vicodin, OxyContin, Oxycodone, Percocet, and Tylenol with Codeine, keep them in a secure place away from anyone who may be tempted to take them. Anyone with these pain killers must keep track of the number of pills they've been prescribed and count them regularly to be sure that they aren't being misused or stolen. If you are selling your home and your realtor is conducting an open house, be sure to take your prescriptions with you when the open house is occurring. People who go to open houses are very curious and will look in medicine cabinets to see if there are any "good drugs" there.
It is especially important to talk to your teens about misusing prescription drugs. Many teens believe that because these drugs are given by a doctor they are safe. By speaking to your teenager and letting them know where you stand on misusing drugs, especially prescription drugs, you're making it clear to them that this is not acceptable to you. Studies have shown that this simple conversation is the most effective and significant form of preventing drug abuse by young people.
When it's time to get rid of old prescriptions or prescriptions you no longer need or use, Loizzi gave the group the locations of the seven Project Medicine Drop boxes in Sussex County. These drop boxes can accept solid medications such as pills, inhalers, and patches. They cannot accept liquids or syringes. The locations of these drop boxes are:
Andover Police Department
Hardyston Police Department
Hopatcong Police Department
Newton Police Department
Sparta Police Department
Vernon Police Department
NJ State Police Barracks in Augusta
Information about Project Medicine Drop can be found by checking out the State Division of Consumer Affairs website at http://www.njconsumeraffairs.gov/meddrop

.
If you have prescriptions that are not accepted by the drop boxes or prefer to dispose of them yourself, Loizzi suggests that you DO NOT flush them down the toilet or throw them in the trash. The EPA released the results of a study that found that the drugs we take and flush down the toilet or throw in the trash are finding their way into our water supply and, while these are trace amounts, proper disposal will help reduce the impact on the environment. Information on safely disposing of prescriptions at home without these adverse effects can be found here, https://myoldmeds.com/proper-disposal/

.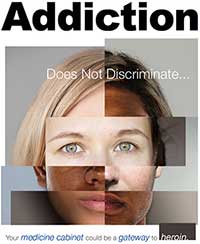 The New Jersey Governor's Council on Alcoholism and Drug Abuse has announced a new resource for residents to access for help or information about drug abuse. The website,
http://knowaddiction.nj.gov/index.shtml

, contains a variety of links related to prevention, treatment and other information to help combat all forms of drug and alcohol abuse.
"Our Municipal Alliance program in Sussex County focuses on local grass root efforts to bring substance abuse prevention initiatives to our county. One of the primary tools to educate parents, students and professionals is by providing education and information at these forums. We are always willing to present current information and strategies for local communities," said Stephen Gruchacz, Administrator for the Sussex County Department of Human Services.
For further information about programs for your group and Municipal Alliance, contact Nick Loizzi, County Alliance Coordinator at (973) 9408-5200 ext. 1383 or municipalalliance@sussex.nj.us
---