Vohden and Mudrick to Lead Sussex County Board of Chosen Freeholders in 2014
The Sussex County Historic Court House in Newton was the setting for the Annual Reorganization Meeting of the Sussex County Board of Chosen Freeholders on Friday, January 3, 2014. Highlights of this year's Reorganization were the appointments of Richard A. Vohden and Dennis J. Mudrick to serve as Director and Deputy Director, respectively, of the Freeholder Board in 2014. Director Vohden and Deputy Director Mudrick were sworn in by the Honorable Frederic G. Weber.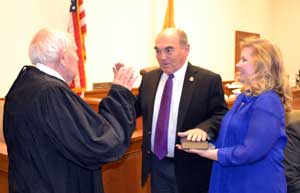 Freeholder Director Richard A. Vohden was re-elected to a three year term in November 2013. Director Vohden, a full-time farmer for the past 20 years, is the owner of Pequest Valley Farms in Green Township where he resides with his wife Faith.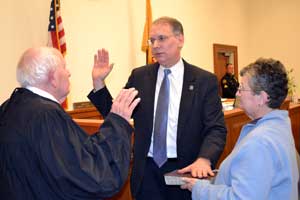 Deputy Director Dennis Mudrick was elected to the Freeholder Board in November 2012. He resides in Sparta Township with his wife Pam and their three sons. Freeholder Mudrick is employed by the Vernon Township Board of Education where he currently serves as the building principal of Cedar Mountain Primary School.
Also returning to the Freeholder Board in 2014:
Phillip R. Crabb is returning to the Board to begin the third year of his term. Freeholder Crabb is employed by Pfizer and lives in Franklin Borough with his wife Sally and has three children.
Gail Phoebus lives in Andover Township with her husband Bob and has two daughters. Freeholder Phoebus is the owner of the Farmstead Golf and Country Club. She is a former member of the Andover Township Committee, where she also served as Mayor.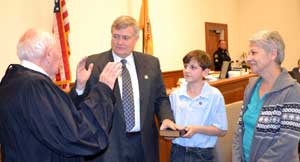 George Graham was appointed to the Board in April 2013 upon the retirement of former Freeholder Susan Zellman and was elected to the Board in November 2013. Freeholder Graham resides in Stanhope with his wife Gail and has three adult children. Freeholder Graham is the owner of a company specializing in construction project management and government relations. He is a former Stanhope Borough Councilman and has also served as Council President.
Two other oaths of office were administered to the Sussex County Surrogate and the Sussex County Sheriff.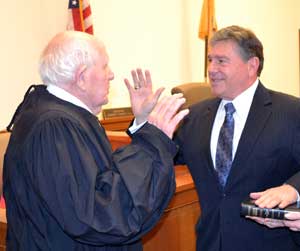 Gary R. Chiusano, appointed as Surrogate in February 2013 after the retirement of former Surrogate Nancy Fitzgibbons, was elected to a five year term in November 2013. He was sworn in by the Honorable Frederic G. Weber.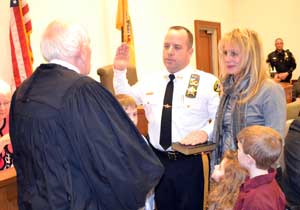 Sheriff Michael Strada was re-elected in November 2013 to a three year term as Sussex County Sheriff and was sworn in by the Honorable Frederic G. Weber.
In closing, Freeholder Director Vohden stated, "The Freeholder Board remains committed to the residents of Sussex County and dedicated to adhering to a sound financial path that will lead to achieving the responsible financial goals it has set in place. While we may encounter financial challenges along the way, any decisions made by this Board in 2014 will remain foremost in the best interests of the taxpayers of Sussex County.
The residents of Sussex County have entrusted this Board to make decisions on their behalf which affect many aspects of their daily lives. This Freeholder Board will not be deterred from achieving the goals it has set in place and its ongoing mission to preserve the optimum quality of life and public services our County residents have come to enjoy and deserve from the county and the communities they call home."
Regular meetings of the Board of Chosen Freeholders are held on the second and fourth Wednesdays of each month (unless otherwise noticed) at 5:00 p.m., in the Freeholder Meeting Room, Sussex County Administrative Center, One Spring Street, Newton, New Jersey. The public is invited to attend.
For additional information on Sussex County Government Departments and Offices, services, news, and events, please visit www.sussex.nj.us.