"Age Out Loud" A Celebration for Older Americans Month
Release Date: April 20, 2017
Seniors are invited to celebrate Older Americans Day on Friday, May 26, 2016, at Selective Insurance in Branchville, NJ.


"Age Out Loud" - A Celebration for Older Americans Month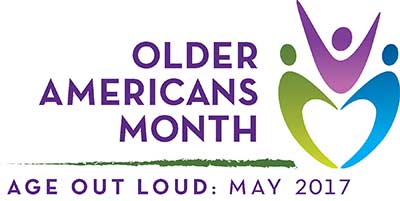 (Branchville, NJ) The Sussex County Department of Health and Human Services, Division of Senior Services, Iliff-Ruggiero Funeral Home and Selective Insurance are excited to recognize Older Americans during our annual Older Americans Month Celebration. Please join us on Friday, May 26, 2017, at Selective Insurance in Branchville, NJ, from 8:30 a.m. to 2:30 p.m., for a day filled with information, education, comradery and entertainment.
The Federal Administration on Aging (AoA) titles this year's theme, Age Out Loud, to give aging a new voice—one that reflects what today's older adults have to say.
AoA wants this year's theme to shine a light on many important trends taking place by our older adults. More than ever before, older Americans are working longer, trying new things, and engaging in their communities. They're taking charge, striving for wellness, focusing on independence, and advocating for themselves and others. What it means to age has changed, and Older Americans Month 2017 is a perfect opportunity to recognize and celebrate what getting older looks like today.
The educational life-enrichment programs this year include: "Take Control of Your Health" by the Sussex County Division of Senior Services; "Chair Zumba" by Nick Marchesani; "Preventing Financial Exploitation for Seniors By Caregivers and Trusted Individuals" by Detective Christopher Grogan from the Sussex County Prosecutor's Office; "Butterflies in Our Area" by the Master Gardeners from the Rutgers Cooperative Extension; and "Know Your R's & x's" by Nicholas Loizzi from the Sussex County Division of Community and Youth Services. Each program is conducted by a local agency that is committed to enhancing the lives of Sussex County seniors.
Each year the Division of Senior Services looks forward to recognizing our older Americans by providing them with engaging programs that are not only educational but fun. Space is limited; therefore, pre-paid registration ($5 per person) is required. Checks should be made payable to "Senior Services Trust Fund" and submitted to Sussex County Division of Senior Services, One Spring Street, Newton, NJ, 07860. For additional information, please contact the Sussex County Division of Senior Services at 973-579-0555 ext. 1277 or seniorservices@sussex.nj.us.