2009 Transit Safety Awards
Release Date: August 10, 2009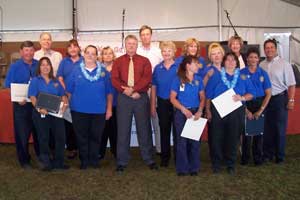 2009 Transit Safety Awards
The 2009 Transit Safety Awards were presented by Freeholder Jeffrey M. Parrott to the Sussex County Transit/Skylands Ride Omnibus Operators on August 6, 2009, during the Senior Day activities at the NJ State Fair/Sussex County Farm and Horse Show. These awards were presented on behalf of the Sussex County Office of Transit/Skylands Ride to those drivers who were accident/incident free, in recognition of the safe performance of their duties during the year of 2008.  Assemblyman Gary R. Chiusano and Senator Steven V. Oroho were present to recognize the Omnibus Operators with Certificates of Recognition on behalf of the state of New Jersey.  Tim Sharpe, Regional Program Administrator of NJ Transit, Joseph Lashendock, Vice-Chair of the Transit Citizens Advisory Committee, John Eskilson, County Administrator, Stephen Gruchacz, Administrator of the Department of Human Services, Carol Novrit, Director of Social Services, and John Jackson, Program Coordinator of Sussex County Transit/Skylands Ride, were on hand to congratulate the drivers.  The Office of Transit/Skylands Ride provides community paratransit and loop bus services to many of the County's older residents and those with disabilities, as well as the general public.   More than 116,000 trips on about 600,000 miles of road were provided to Sussex County residents during 2008.
It was truly a privilege to acknowledge the exemplary safety standards of the 16 recipients.  Receiving safety awards with the number of years they have been accident free were:  Helen Baker, 6 Years; Barbara Fitzmaurice, 6 Years; Debra Scott, 5 Years; Bert Oudshoorn, 4 Years; Ellen Van Dunk, 4 Years; Gary Quince, 3 Years; Jeffrey Staple, 3 Years; Luis Ortiz, 2 Years; Nancy Redmond, 2 Years; Kathleen Hayde, 1 Year; Marjorie Healey, 1 Year; Carrie Heiney, 1 Year; Shirley Shay, 1 Year; Darlene Sonvico, 1 Year; Mary Ann Warner, 1 Year; Janice Wiedeman, 1 Year.
The County Administration, the Department of Human Services, the Division of Social Services and the Office of Transit/Skylands Ride congratulate this year's recipients and wish them many more miles of accident/incident-free travel.