Freeholders Issue Proclamation in Support of Knock Out Opioid Abuse Day
The nation is gripped in an epidemic that impacts thousands of people on a daily basis. Sussex County is not immune from this epidemic. Opioid abuse in Sussex County is a continuing and growing problem for those who are caught in the grip of addiction, their loved-ones, neighbors, communities, first responders, and a variety of agencies responsible for providing the myriad services to these individuals and others.
According to the Centers for Disease Control and Prevention (www.cdc.gov

), over 33,000 people in the United States died of an opioid overdose in 2015. Nearly half of all of these deaths involved a prescription opioid. The final tally of deaths due to opioid overdose in 2016 has not been completed but is expected to be higher. Early signs and data for 2017 indicate that these numbers will continue to increase.
Sussex County lost 36 of its residents to opioid overdose in 2016, and it seems that each news cycle carries with it more grim stories about a loved one lost in the area. The Prosecutor's Office supplies and monitors the area's law enforcement agencies (excluding State Police) with life-saving Narcan, a drug which counteracts the effects of opioid overdose. Sussex County Prosecutor Francis Koch has estimated that Narcan deployments by law enforcement agencies in Sussex County will reach a minimum of 85 - 90; an increase of 29%. These numbers do not include the deployment of Narcan by the area's EMS squads or the New Jersey State Police.
The County of Sussex is taking proactive measures to combat the opioid epidemic and other issues related to substance use disorder in the county. The Division of Community and Youth Services is committed to providing the resources and information needed to fight this epidemic. The Municipal Alliance Program in Sussex County has just begun its fiscal year 2018 term. Over 90 prevention programs and activities will be provided to residents in 21 of the 24 municipalities in the county through the eleven active Municipal Alliances. The Division will also provide additional programming available to all county residents through the Alliance Countywide Plan.
The Sussex County Comprehensive Plan for the Organization and Delivery of Alcohol and Drug Abuse Services is currently in the second year of a four year term. This plan utilizes funds from the State of New Jersey Division of Mental Health and Addiction to provide treatment, detoxification, and recovery support services to residents of the county who are suffering from substance use disorder and do not have medical insurance coverage or qualify for Medicare assistance. The County of Sussex contracts with Capitol Care of Stanhope, The Center for Prevention and Counseling of Newton, Freedom House, Turning Point, and DASI (Domestic Abuse and Sexual Assault Intervention Services) to provide these vital services.
The Division of Community and Youth Services is responsible for other services that provide ancillary support in its fight against the opioid epidemic. The Sussex County Right Path program is a suspension intervention county funded program through the Juvenile Detention Alternatives Initiative Innovations funding. Its purpose is to provide middle and high schools with alternative social service options for students who are at risk of an out of school suspension. The program is also designed to provide services for the local police departments with alternatives in lieu of a formal juvenile delinquency complaint. The school staff or police officer contacts the county's Youth Services Coordinator and along with the student/youth and his/her family, explores alternative social services to address the problematic behaviors, some of which have been shown to increase the risk of substance abuse.
The Sussex County Board of Chosen Freeholders has taken a very active role in responding to the epidemic. The Board issued a proclamation during its September 27, 2017 Freeholder Meeting in Fredon Township, recognizing Friday, October 6, 2017, as Knock Out Opioid Abuse Day. Knock Out Opioid Abuse Day is a project of the Partnership for a Drug-Free New Jersey, in cooperation with the Governor's Council on Alcoholism and Drug Abuse; the New Jersey Department of Human Services, Division of Addiction Services; and, community coalitions and Municipal Alliances throughout the state. This single-day initiative will mobilize citizens to distribute vital information about the potential for dependency on prescribed pain medicine and its link to heroin abuse rates in the state. The effort will have a dual focus: educating physicians and raising awareness among New Jersey residents and families. Many people are unaware of the link between prescription opioids and heroin abuse.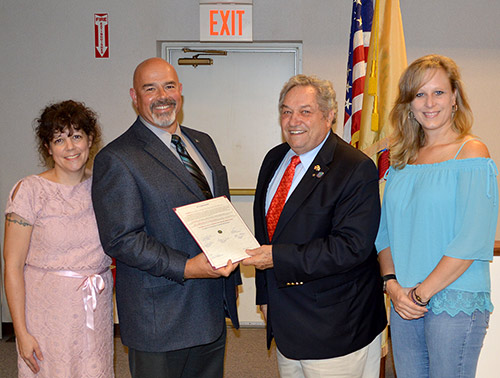 Christine Florio, Director, Division of Community and Youth Services, Nick Loizzi, Sussex County Municipal Alliance Coordinator, Carl Lazzaro, Freeholder Director, Debbie Danielson, Action Municipal Alliance
Everyone is encouraged to take part in this effort to address the opioid epidemic on October 6. If you would like more information about how to take part, please visit www.drugfreenj.org

.
The Sussex County Municipal Alliance Plan as well as The Comprehensive Plan for the Organization and Delivery of Alcohol and Drug Abuse Services are planned, reviewed, and approved by the Sussex County Local Area Committee of Alcoholism and Drug Abuse (LACADA) and the County Alliance Steering Subcommittee. These committees consist of volunteers from Sussex County who would like to make an impact on the alcohol and substance use in Sussex County. If you would like more information on how to become part of these important committees, contact Nick Loizzi, Sussex County Municipal Alliance Coordinator at (973) 940-5200, ext. 1383, or nloizzi@sussex.nj.us.