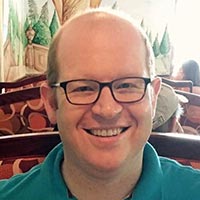 The County of Sussex is pleased to announce William W. Porter has been appointed the Sussex County Library Director. Mr. Porter has 17 years of experience having begun his career as a librarian at the Queens Public Library in New York City. Mr. Porter has held managerial and directorial roles ever since including having served as the Branch Library Manager of the Dennis Library in Newton and most recently as the Roxbury Public Library Director.
Throughout his career Mr. Porter has served on various industry organizations. Among these distinctions, he was elected to the Board of Directors of the 38-member MAIN library consortium, and served as its President in 2015. Additionally, he has served on the LibraryLinkNJ Technology Advisory Committee, the NJ State Library SWAT Team, and the Executive Board of the Literacy Volunteers of Sussex County. He is a member of the American Library Association, the Public Library Association, and the New Jersey Library Association.
Mr. Porter begins his new position August 1, 2017.