Special Operations Group participated in Truck Pull
The Sussex County Sheriff's Office, Bureau of Corrections Special Operations Group (SOG) participated in a fundraising event hosted by the Military Transport Association, Inc. 501c4 (MTA) in order to raise funds and awareness for local Family Readiness Groups and soldiers in the Army National Guard 143rd Transportation Unit.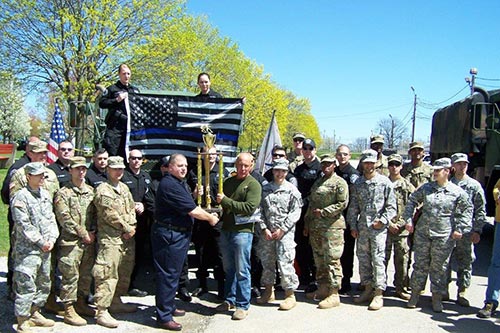 Attached picture shows Warden Mark Farsi holding up the trophy surrounded by members of the SOG Team and members of the military.
The event took place at noon on April 23rd as part of a larger Military Swap-Meet and Vehicle Show. One of the event organizers, Randy Emr, a local military supporter and fundraiser with the MTA was brought to tears seeing the Army, Boy Scouts of America Troop 188, Law Enforcement, local gyms, and general team assemblies come together for laughs and fun in order to support a great cause.
The Special Operations Group broke the last reported record on the Truck Pull with a time of 13.9 seconds to pull the 20,000lb historic military truck a distance of 100 feet. The previous record was around the 16 second range, states Randy Emr. The Boy Scouts came in as a very close second with a time of 15.4 seconds with a little help from a couple of their friends in SOG who tactically inserted themselves behind the truck for a boost.
Mark Farsi, Warden of the County Jail, cordially welcomes any other Law Enforcement teams to come and try to take the trophy next year; all in the name of camaraderie and a good cause.
Sussex County Sheriff Mike Strada thanks our service members, veterans, their families, and the event organizers for allowing the Sheriff's Office to be part of a great event in support of the community.
Sheriff Strada congratulates all of the recipients and looks forward to another successful awards program for both the officers and civilians of the Sussex County Sheriff's Office.