Lazzaro and Rose to Lead Sussex County Board of Chosen Freeholders in 2017
The Sussex County Historic Court House in Newton was the setting for the Annual Reorganization Meeting of the Sussex County Board of Chosen Freeholders on Tuesday, January 3, 2017. Highlights of this year's Reorganization were the swearing in of George F. Graham and Sylvia Petillo as freeholders for terms of 3 years each. Also were the appointments of Carl F. Lazzaro and Jonathan M. Rose to serve as Director and Deputy Director, respectively, of the Freeholder Board in 2017. Director Lazzaro and Deputy Director Rose were sworn in by the Honorable Michael C. Gaus.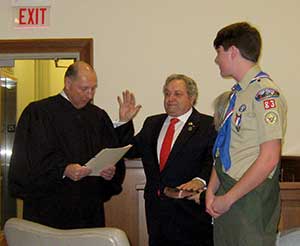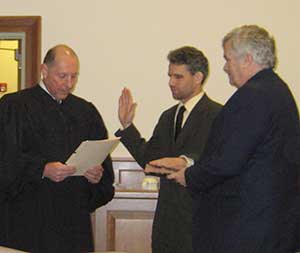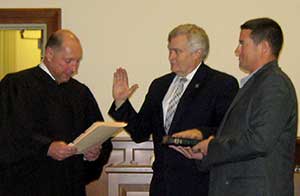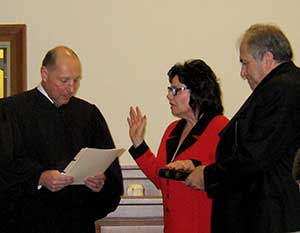 Freeholder Director Lazzaro was elected to the Board in November, 2015 and sworn in January of 2016. Carl and his wife Pam of 35 years reside in Fredon Township and have four grown children Andrew, Danielle, John and Jeff and several grandchildren. Carl has been a resident of Sussex County for 45 years and owns an insurance business in Fredon Township. He served on the Newton Board of Education, NJ School Board, Board of Directors, Exec Board of Directors NJSIAA, and was part owner of a retail gift shop. He served as President of Newton Rotary and President and Vice President of Sussex County League of Municipalities. Carl also served on the Fredon Township Planning Board, Fredon Township Committee and was Deputy Mayor and Mayor of Fredon Township as well as serving on the Fredon Fire Department and served as Captain and Lieutenant of Fredon EMS. He also serves as Chaplain of the Sussex County Firemen's Association and the Branchville Businessmen's Club.
Freeholder Deputy Director Jonathan M. Rose was born in 1979 in Sussex County. He and his family lived in Wantage, NJ during his childhood. After graduating from High Point Regional High School, he enrolled at Rutgers University in New Brunswick, NJ where he majored in computer science, mathematics and physics. After graduating from Rutgers in 2001, Jon returned to Sussex County. He started a business called Farious Net Solutions. FNS is a high tech company specializing in building and maintaining networks and computer systems for small to medium sized businesses.
Jon's call to public service began in 2003 when he was appointed to serve on the Sussex Borough Planning/Zoning Board. In 2005, Jon was appointed to fill an unexpired term on the Sussex Borough council. He was elected to that position in 2007, and served 7 years in that capacity before running for and winning the Sussex mayoral election in 2011. He served as Sussex Borough Mayor from 2012 through 2015.
Freeholder Sylvia Petillo was elected to the Board of Chosen Freeholders on November 8, 2016. On January 3, 2017, Freeholder Petillo was sworn in as a member of the Freeholder Board.
Sylvia started her municipal service in 2004 by being elected to the Hopatcong Borough Council. She was elected as the first female Mayor of the Borough of Hopatcong in 2007. Sylvia served nine years as Mayor and in 2014, she was chosen as the "Mayor of The Year" by the Sussex County Economic Development Partnership. She is a member of the Leadership Council for Project Self -Sufficiency, St. Clare's Health System Community Advisory Group and the Hopatcong Creative Arts Council. She is also Vice-President of Petillo Enterprises, a site-development company that she owns with her husband in Kenvil, New Jersey.
Sylvia received her B.A. in Music Education from William Paterson University, New Jersey, and her M.S. in Education from Marywood University, Pennsylvania. She taught music and elementary education for over fifteen years in Garfield and Andover Township Public Schools, Northwest Christian School in Newton, and Cornerstone Christian Academy in Randolph.
Sylvia's interest in serving her community started many years ago. She became an advocate for at -risk children and helped organize the "Helping Hands Program" in the early 1980's. During that time she also worked on recovery efforts for youngsters who had been abducted. She was asked to write and record songs that would tell the story of children that were missing. Sylvia volunteered her services to the Interstate Association of Stolen Children. She wrote and recorded a song for them entitled, "Where Can She Be." That song has been used to raise awareness about missing children throughout the United States.
During Operation Desert Storm, in 1991, she was inspired to compose a song entitled "Where Is That Love." The song was dedicated to the fallen soldiers and their families. Upon hearing her song, General Norman Schwarzkopf, head of the United States Command and Coalition Forces in the Persian Gulf, acknowledged and wrote, "I have received many original songs since the beginning of Operation Desert Shield and Desert Storm, but yours touched my heart. Thank you for demonstrating your support for our troops. They deserve the thanks of a grateful nation. God Bless You!"
Through the help of General Schwarzkopf's office her song was distributed by the military to all the families of the fallen soldiers and our POW's. On the 20th Anniversary of Desert Storm, Sylvia was invited to take part in a Military Anniversary Ceremony in memory of those who fell and those who survived.
Sylvia was elected to the Hopatcong Board of Education in 1995, and served for nine years. She was the President for four years of her tenure. While on the Board, she was the recipient of the 2002 "Volunteer of the Year Award" for Sussex County for her work on behalf of the Hopatcong Municipal Drug and Alcohol Alliance. Sylvia also served for fifteen years as a mediator for Hopatcong's criminal court and the Board of Directors for American Christian School in Succasunna, New Jersey.
Sylvia and her husband Ron have been married for 42 years. They are the proud parents of Michael, the Lead Pastor at The Springs Church, who resides in Monument, Colorado, with his wife Bethany and their sons Landon and Max…...and Joseph, an Electrical Engineer at Picatinny Arsenal, who resides in Green with his wife Meredith and their daughter Serena.
Also returning to the Board in 2017:
George F. Graham resides in Stanhope with his wife Gail and has three adult children. Freeholder Graham is the owner of a company specializing in construction project management and government relations. He is a former Stanhope Borough Councilman and has also served as Council President.
Phillip R. Crabb lives in Franklin Borough with his wife Sally and has three children.

During remarks Freeholder Director Lazzaro gave his heartfelt thanks to George Graham for his leadership as freeholder director during 2016. There were many difficult issues we encountered. George was very adept at keeping us on track and moving forward with the difficult issues, move forward with adjustments and changes that this Board felt necessary for the operation of county government.

I believe that we are on track and will continue to move forward and make the necessary adjustments for the future. My thanks to this board for their confidence in choosing me to be the director for the coming year. I will do my utmost, with your help, to make this year a success for Sussex County government. I also welcome Sylvia Petillo to the Board. We look forward to your experience to work together at the issues we will face. Also my thanks to Jonathan Rose for his willingness to serve as Deputy Director. My thanks to all the municipal leaders who make our towns function and for putting themselves out there for election and leading their individual community day by day.

Over 40,000 voters elected this board to assume leadership of county government and this board has been responsive to the voters of Sussex County. We have to be open to all interested parties of the community; we have been, as the favorite word of the day goes, open and transparent and we will continue that tradition. We also need to thank the many citizens who volunteer on the many advisory boards within the county.

We have many challenges before us and we have an able board to meet those challenges. Applications are coming in for administrator and we will complete that task as quickly and thoroughly as possible. We will work diligently to bring the solar issue to completion. There are other challenges, many of which Jonathan and George have already mentioned, which we will meet working together.

I graciously and gratefully serve the residents of Sussex County.

Thank you to all who have joined us tonight.
Regular meetings of the Board of Chosen Freeholders are held on the second and fourth Wednesdays of each month (unless otherwise noticed) at 7 p.m., in the Freeholder Meeting Room, Sussex County Administrative Center, One Spring Street, Newton, New Jersey. The public is invited to attend.
For additional information on Sussex County Government Departments and Offices, services, news, and events, please visit www.sussex.nj.us.