Beat the Flu!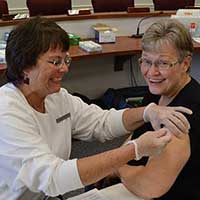 Walk-In Flu Vaccination Clinics
Mondays & Thursdays 2-4 p.m.
through March 29, 2018
(Closed on holidays: 11/23/17, 12/25/17, 1/15/18, 2/19/18)
$20 Cash or Check Only

No Appointment Required

No charge for residents 65 years and older with Medicare B as your primary medical insurance. Medicare HMO is NOT accepted.
Sussex County Office of Public Health Nursing
201 Wheatsworth Road
Hamburg, NJ 07419
973-579-0570 x1211
Near Routes 94 and 23

NJ child care requirement: children between 6 months and 59 months require a flu vaccine by December 31, 2017