Let's Celebrate National Public Health Week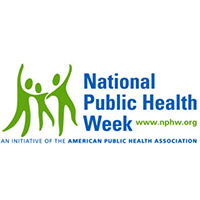 (Newton) The Sussex County Division of Health invites you to celebrate public health efforts during National Public Health Week, April 3-9, 2017. During the first week of April each year, American Public Health Association (APHA) brings together communities across the nation to recognize the contributions made by the field of public health, highlight important issues that help to improve the health of our country and to educate the public, policy makers and practitioners about issues related to public health.
This year's theme for National Public Health Week is, "Healthiest Nation 2030: Creating the Healthiest Nation in One Generation." According to APHA, they are working to prevent chronic disease and to reduce health disparities in nine focus areas, ranging from social justice, health equity and quality healthcare to making healthy choices the easier choices at home and throughout your community. For a full list of the focus areas, visit www.nphw.org

.
The Sussex County Division of Health has made it our mission to protect, promote, maintain and improve the health and quality of life for Sussex County citizens and visitors through a responsive, well managed, organized community effort. Public health plays an essential role in the overall wellbeing and safety of our communities, workplaces, schools and homes. From safe drinking water to vaccinations for our children, the Sussex County Division of Health is here for you.
The various offices and programs offered through the county's health department are listed below. Visit the Sussex County Division of Health's website at www.sussex.nj.us/health for more information on these public health services.
Office of Public Health Nursing
Office of Environmental Health
Public Health Emergency Preparedness Program
Medical Reserve Corps
Special Child Health Services
Office of Mosquito Control

The Sussex Warren Chronic Disease Coalition
New Jersey Cancer Education and Early Detection (NJCEED) Program
County Environmental Health Act Program (CEHA)
HAZ-MAT Response Team
Office of Weights and Measures