Crabb and Mudrick to Lead Sussex County Board of Chosen Freeholders in 2015
The Sussex County Historic Court House in Newton was the setting for the Annual Reorganization Meeting of the Sussex County Board of Chosen Freeholders on Friday, January 2, 2015. Highlights of this year's Reorganization were the appointments of Phillip R. Crabb and Dennis J. Mudrick to serve as Director and Deputy Director, respectively, of the Freeholder Board in 2015. Director Crabb and Deputy Director Mudrick were sworn in by the Honorable Frederic G. Weber.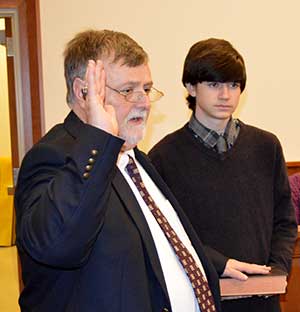 Freeholder Director Phillip R. Crabb was re-elected to a three year term in November 2014. Director Crabb is employed by Pfizer and lives in Franklin Borough with his wife Sally and has three children.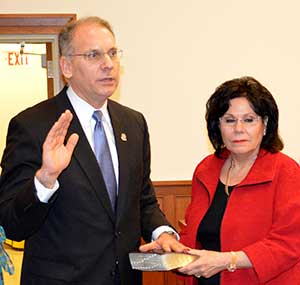 Deputy Director Dennis Mudrick was elected to the Freeholder Board in November 2012. He resides in Sparta Township with his wife Pam and their three sons. Freeholder Mudrick is employed by the Vernon Township Board of Education where he currently serves as the building principal of Cedar Mountain Primary School.
Also returning to the Freeholder Board in 2015:
Gail Phoebus lives in Andover Township with her husband Bob and has two daughters. Freeholder Phoebus is the owner of the Farmstead Golf and Country Club. She is a former member of the Andover Township Committee, where she also served as Mayor.
George Graham resides in Stanhope with his wife Gail and has three adult children. Freeholder Graham is the owner of a company specializing in construction project management and government relations. He is a former Stanhope Borough Councilman and has also served as Council President.
Richard A. Vohden, a full-time farmer for the past 20 years, is the owner of Pequest Valley Farms in Green Township where he resides with his wife Faith.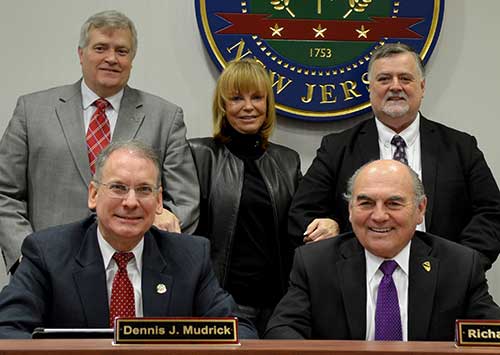 In closing, Freeholder Director Crabb stated,"Last year at these proceedings I mentioned three projects that would be signature events for the coming year. The first is that we would cut the tape for the 9-1-1 Center. Not only did that occur, but we are now live for 11 communities averaging over 30 calls a day.
The second project I mentioned was the comprehensive needs assessment being done for the Jail. That has now been completed and we are committing to execute the first phases of that plan that will invest around $11 million dollars to improve that facility over the next several years.
The third project I mentioned was the Transitional Care program hitting high-gear. That has occurred with results that have been acknowledged nationwide, as astonishing. We look to expand this highly successfully collaboration with the hospital and local medical groups that is being widely followed for the improved outcomes it is generating.
And, as a postscript, I suggested that the next big thing would likely be to bring the Library system into the 21st century. I can tell you that just last week we instructed Senior leadership to take the first steps in discussions with the College and other entities that could lead to a new, modern Library infrastructure and technical advancements.
We couldn't do any of this without our great employees. To all our staff I say this, there have been difficult times, but everyone who is here, is here for a reason, and this Board takes great pride in their work on behalf of this County."
Regular meetings of the Board of Chosen Freeholders are held on the second and fourth Wednesdays of each month (unless otherwise noticed) at 5 p.m., in the Freeholder Meeting Room, Sussex County Administrative Center, One Spring Street, Newton, New Jersey. The public is invited to attend.
For additional information on Sussex County Government Departments and Offices, services, news, and events, please visit www.sussex.nj.us.