A Reason to Be Thankful
[Newton, NJ] A local homebound couple will have turkey and all the trimmings for the first time in many years this Thanksgiving. After celebrating 60 years of marriage and living in their own home for the past thirty four years, maintaining independence has become a challenge for this elderly couple. Their ability to enjoy a holiday with the luxury of a traditional meal has become a rarity. The annual Stuff the Bus food drive provided nutritious food and an opportunity for this couple and many more Sussex County families to experience a little joy this holiday season.

WNNJ, WSUS and MAX 106.3 radio talents have given many a reason to be thankful during the holiday season by hosting the Stuff the Bus food drive for the past seven years. Stuff the Bus has evolved into a well-known countywide event during a time of year when many listeners wish to show their thanks by giving back to those less fortunate.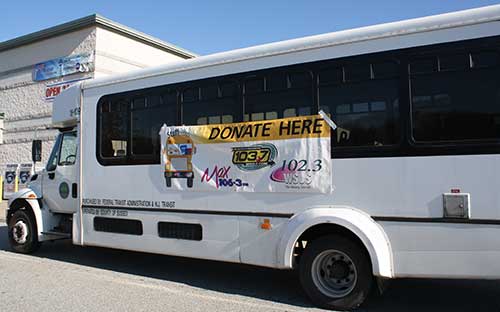 "When we originally initiated the concept of Stuff the Bus seven years ago, our expectation was to generate community interest in having Sussex County citizens helping fellow citizens who are facing personal and family challenges. Today we have been able to assist many hundreds of individuals and families and increase our partnership with other community agencies. Our seventh annual Stuff the Bus campaign against hunger has provided food to residents in need throughout Sussex County, as well as local food pantries whose shelves are often depleted due to the increasing demand for assistance. Thanks to the continued support of 103.7 WNNJ, 102.3 WSUS, MAX 106.3 and our generous community, Social Services has been able to keep food pantry shelves stocked throughout these economically difficult times," said Stephen Gruchacz, Administrator for the Sussex County Department of Human Services.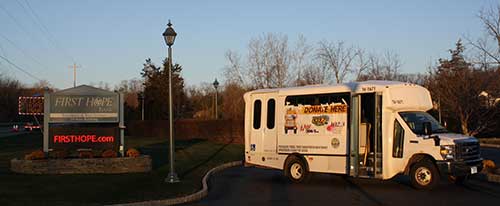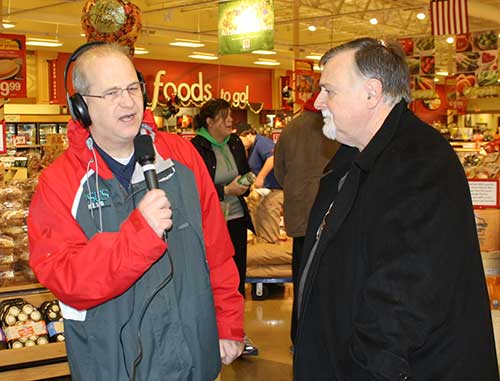 First Hope Bank, Weis Markets, Franklin Sussex Auto Mall and The Mitchell Agency served as collection sites this year for residents to "stuff the bus" with donations to benefit the Department of Human Services, Division of Social Services food pantry, which serves Sussex County residents in need. For several days prior to Thanksgiving, 103.7 WNNJ personalities Gary Cee, Borasio and Tony Paige along with 102.3 WSUS personalities Steve Andrews, Michelle Taylor, Mel Andrews, Steve Allan and George Fuller broadcasted live, while loyal listeners filled buses provided by Sussex County Skylands Ride (formerly Sussex County Transit) with their donations. Sussex County Freeholders Phillip Crabb and Gail Phoebus attended this years' event to greet residents and "Stuff the Bus" with donations.
The Mitchell Agency began collecting donations in October and continued through Thanksgiving. First Hope Bank in Newton continued the effort on the 21st of November, when WNNJ radio talent Gary Cee and WSUS radio talents Steve Andrews and Michelle Taylor broadcasted live while donors stuffed a Skylands Ride bus with their donations. Weis Markets in Newton and Franklin spearheaded the effort on the 22nd and 23rd of November. WNNJ radio talents Gary Cee, Borasio and Tony Paige broadcasted live at the Newton site, while WSUS radio talents Steve Andrews, George Fuller and Mel Andrews broadcasted at the Franklin location. Collection efforts came to a grand finale at Franklin Sussex Auto Mall on the 24th of November when WSUS radio talent Steve Allan broadcasted live while residents Crammed a Ram with their donations. Stuff the Bus collected over 29,000 pounds of food and over $12,000 in monetary donations this year. The monetary donations received this year will allow the pantry to purchase approximately 60,000 pounds of food. Since the first Stuff the Bus was held in 2008, WNNJ, WSUS and MAX 106.3 have helped to raise over 147,300 pounds of food and over $31,000 in monetary donations.
The County of Sussex, Department of Human Services, Division of Social Services would like to send a warm thank you to Gary Cee, Borasio, Steve Andrews, Tony Paige, Michelle Taylor, George Fuller, Steve Allan, 103.7 WNNJ, 102.3 WSUS, MAX 106.3, Weis Markets, First Hope Bank, Franklin Sussex Auto Mall, The Mitchell Agency, Skylands Ride, food pantry volunteers and countless community supporters, as well as the people and businesses who donated to make this food drive such a success.
If anyone is in need of food for themselves or their family, they can stop by the Division of Social Services, located at 83 Spring Street, Newton, NJ, from 8:30 a.m. to 4:30 p.m., Monday through Friday. Also, food donations or pet food are accepted during these hours or special arrangements can be made for after-hours donations by calling 973-383-3600. If you are interested in becoming a partner in this effort, please contact us at humanservices@sussex.nj.us.