October is Breast Cancer Awareness Month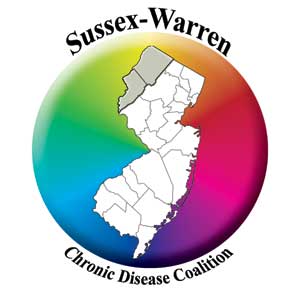 September 30, 2014, Hamburg, NJ: October has been recognized as "National Breast Cancer Awareness Month" and the Sussex Warren Regional Chronic Disease Coalition wants to remind residents about the importance of early detection for breast cancer survival. The awareness celebration began as a weeklong awareness campaign led by the American Cancer Society and has now become a national event. In Sussex County, many community organizations partner together to support breast cancer awareness, including the Department of Environmental and Public Health Services, New Jersey Cancer Education Early Detection Program (NJCEED), Newton Medical Center - Atlantic Health Systems, Planned Parenthood, New Perspectives Health Care, and Project Self-Sufficiency.
The Sussex Warren Chronic Disease Coalition has organized two celebrations in the county to commemorate "National Breast Cancer Awareness Month." First on the schedule is the month long, "Tie-A-Ribbon" campaign that has become an annual affair held each October for the last 5 years. This event is now a county-wide initiative, involving every municipality throughout Sussex County. Each municipality has been asked to pick a well-traveled street in their area to decorate with pink ribbons to raise awareness about early detection. There will also be breast health displays and educational information available at locations throughout the Sussex County.
The second event is a dinner and lecture program called, "Women Take Charge - Only You Can Make a Difference." The program's goal is to create a comfortable atmosphere where participants can learn about breast and ovarian cancer and the link between making healthier lifestyle choices. This event will be held at Tony's Pizza and Pasta Restaurant in Hamburg, NJ at 5:30 p.m. on October 6, 2014. Registration is required and can be made by calling 973-579-0570, ext. 1246.
Anyone can develop breast cancer, both men and women, young or old. Early detection can increase your chances of survival, so, talk to your healthcare provider about scheduling your next exam. Even if you do not have health insurance, you still have options available to you. There are low cost screenings and grants available for those who qualify. For more information, please contact the Sussex County Department of Environmental and Public Health Services at (973) 579-0570 or visit the website at www.sussex.nj.us/health.