Skylands Ride Omnibus Operator Doug Maull Wins the 33rd Annual New Jersey State Paratransit Roadeo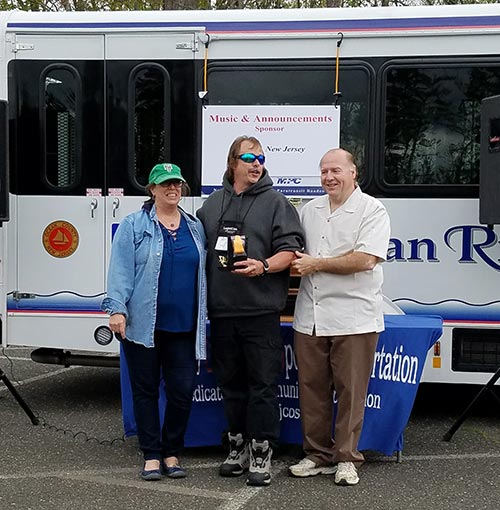 [Newton, NJ] Skylands Ride Omnibus Operator took first place at the 2017 New Jersey State Annual Paratransit Roadeo, held in the rain on Saturday, May 6, 2017, at Great Adventure in Jackson, New Jersey. The event is sponsored by the New Jersey Council on Special Transportation and New Jersey Transit's Office of Local Programs Support. The Paratransit Roadeo is a competition for drivers from around the state to test their skills against one another based upon their safety and driving expertise. Drivers are scored on their ability to maneuver their vehicles in an obstacle course designed to represent everyday driving patterns. Drivers are also scored on a written test, client sensitivity, wheel chair securement and bus preparation.
Michael Vieira, President of New Jersey Council on Special Transportation announced the winner, " New Jersey is very fortunate to have had 3 National Roadeo Champions in the past. We are very proud of the first place winner, Doug Maull from Sussex County, who will be representing New Jersey at the 33rd National Roadeo in Detroit this year." The New Jersey State and National Roadeos are dedicated to furthering the excellence of driver safety and customer service throughout Paratransit operators.
Omnibus Operator Doug Maull has represented Sussex County Skylands Ride in the NJ State Roadeo for the past seven years. Doug's excellent mastery of safe Omnibus Operations and customer service is representative of the services provided to Sussex County residents by Skylands Ride's top notch staff. Doug's perseverance and dedication helped navigate his path to a first place victory and earned him the privilege of competing in the National Roadeo. Diana Hufana, representing Cape May Fare Free Transportation placed second in the Roadeo, will also be attending the National Roadeo.
The National Roadeo will be held on the 10th and 11th of June at the Fair Grounds in Detroit, Michigan. The National Roadeo is sponsored by the Community Transportation Association of America. The event draws drivers from around the country to compete for top scores on a course that tests skills on every level of the driver's abilities. Last year in addition to mainland USA, drivers from Alaska, Hawaii, Canada and Australia participated in the National Roadeo.