Barbara Miller to Co-chair New Jersey Association of County Youth Services Commissions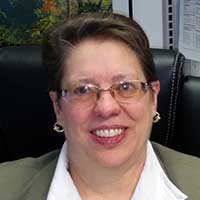 Barbara Miller, Sussex County's Youth Services Coordinator, has been elected as co-chair of the New Jersey Association of County Youth Services Commissions (NJACYSC) for the year 2014. The Association is a statewide organization consisting of representatives from all 21 counties as well as the New Jersey Juvenile Justice Commission, which oversees the provision of juvenile justice services for the State of New Jersey.
"We are fortunate to have Barbara's leadership recognized through this appointment. She will extend her leadership skills in Sussex County to the New Jersey Association of County Youth Services Commissions (NJACYSC) in an effort to ensure comprehensive, integrated services to youth and their families," said Stephen Gruchacz, Administrator for the Sussex County Department of Human Services.
Each county in New Jersey is mandated by law to have a Youth Services Commission. The purpose of the Youth Services Commission is to advocate for an accessible, responsive, integrated and coordinated system of care for the specific needs of youth and families residing in Sussex County. The priority population includes at a minimum, youth with special social and emotional needs and/or juveniles involved or at risk of involvement in the Family Court.
As co-chair of the Association of Youth Services Commissions, Ms. Miller will be able to represent the interests of Sussex County youth at the state level, and to have the opportunity to assist in the formulation of juvenile justice policy for the State. The purpose of the Association is to promote communication and coordination between the counties and the Juvenile Justice Commission, various other State agencies and departments, and other planning bodies and advisory groups dealing with services for youth involved with or at risk of involvement with the Family Court system.
Having the Sussex County Youth Services Coordinator as co-chair of this Association will put Sussex County in a position to provide the Juvenile Justice Commission with input from a smaller, rural county perspective where the needs of at-risk youth are often very different from those of their urban counterparts. Also, as co-chair of a statewide organization, Ms. Miller will be able to make sure that these needs remain in the forefront of the Association's policy and planning recommendations to the State.