Sussex County Presents Workshop at Statewide Conference
A team from the Sussex County Division of Community and Youth Services conducted a workshop at the New Jersey Department of Children and Families & The NJ Task Force on Child Abuse and Neglect, 2013 Biennial Conference, "Transitions: From Infancy to Adulthood" on September 20, 2013, in Atlantic City, NJ. The conference focused on expanding professional knowledge and skills to develop successful transitions for youth aging out of the children's system into adulthood. The Sussex County team conducted a workshop entitled, "Detention Alternatives: A Multidisciplinary Approach to Juvenile Rehabilitation." See PowerPoint presentation here.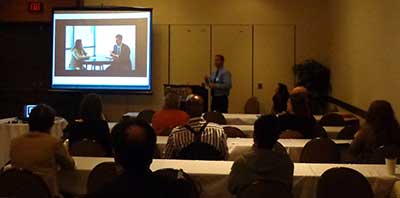 The first goal of the workshop was to increase the attendees understanding of how a dynamic multidisciplinary team (MDT) functions and how team members can assist in positive outcomes for at-risk youth. The second goal of the workshop was to increase the knowledge of the participants on how a Detention Alternatives Program that includes intensive community case management can be rehabilitative, reducing recidivism and decreasing secure detention numbers.
The two hour workshop that included an overview of our MDT and Detention Alternative Program started with a history of our County Youth Services and Detention Programs. The timeline started off with the 2009 closing of the Detention Center. At the time of this closure, Sussex County Department of Human Services, Division of Community and Youth Services was given the green light to create our Detention Alternatives Program. At the start of the program, it was called Home Detention. The mission of the program is to provide intensive supervision, electronic monitoring, community service, and case management to court involved youth. Simultaneously, the goal is to maintain the youth with his/her family within the community where he/she can maintain school involvement/enrollment, seek or maintain employment, and have access to local social services. This program further reduced the detention placements and is showing positive results in the recidivism rates. In 2011 the Youth Services Commission conducted a comprehensive needs assessment that showed that we were in need of a full spectrum of diversion and disposition options for the court to truly make our detention alternatives initiatives work for our youth.
Our Youth Services Commission is comprised of judiciary, child behavioral health providers, law enforcement, child welfare, and community members. Through a comprehensive planning process, new community programs were created that address a myriad of needs, including employment, anger management, life skills and substance abuse. With the realignment of funding, we were able to also increase our Home Detention to offer a full graduated sanctions program, where youth can progress through the system without having to be placed in secure detention when a violation occurs. We utilize our Multidisciplinary Team (MDT) that involves all of our local providers, our child welfare agency (Division of Protection and Permanency), child behavioral health representatives (Children's System of Care) and Family Division of the judiciary and the detention and shelter staff from our regionalized service providers.
It should be noted that when the regionalization occurred, we ensured that appropriate staff from regional providers be assigned to attend our commission meetings and our MDT. We felt that in order to ensure appropriate rehabilitation and integration efforts for youth, we needed to have them represented at the table and their contracts are directly administered by the Division of Community and Youth Services, which ensures that cooperation and collaboration occurs. The MDT discusses all children that are in secure detention and detention alternatives, reviews their progress and makes recommendations to the courts.
We closed the workshop with a tabletop exercise that used a case scenario based on a real life Detention Alternatives client "Shawn." The room was broken into three MDT's and roles were assigned. Each set of roles had a twist that made it harder to develop their case plan and one group had the real set of roles and case plan. There were a great deal of ideas exchanged; however, no one came up with the case plan that was actually developed for "Shawn." Ultimately, no one had surmised that "Shawn" would have ended up a success story.
Because Sussex County made the decision to look at detention differently, children like "Shawn" do not have to continue down a negative path. With assistance, they can choose a positive path that leads them to a successful transition to adulthood.
Downloadable materials from all workshops.