Hardyston Middle and Elementary School Students Stuff the Bus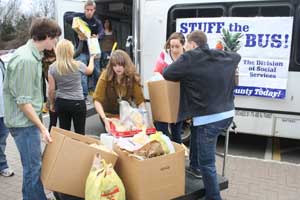 [Newton, NJ] The Stuff the Bus campaign against hunger in Sussex County kicked off its fourth year on November 21, 2011. Hardyston Middle and Elementary School students participated for the second consecutive year and raised 1,700 pounds of food this year to help "stuff the bus" with their donations. The children had collected food during the past week in preparation for the upcoming event. WNNJ Radio personality Rob Moorhead and Social Services Director Carol Novrit were on site to congratulate the students on their fine efforts.
"The participation of these young students in the Stuff the Bus initiative in a tribute to the guidance provided by their families and teachers," said Stephen Gruchacz, Administrator for the Sussex County Department of Human Services. "It is encouraging that during these economic times that the children understand the needs in Sussex County to help feed the hungry. Each one of them should be proud of their participation," he added.
If anyone is in need of food for themselves or their family, they can stop by the Division of Social Services, located at 83 Spring Street, Newton, NJ, from 8:30 a.m. to 4:30 p.m., Monday through Friday. Food donations or pet food are accepted during these hours or special arrangements can be made for after-hours donations by calling 973-383-3600.