Sussex County Division of Emergency Management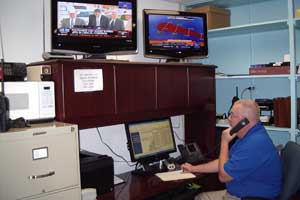 Captain Kately monitors multiple news outlets for the latest developments.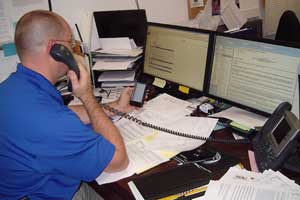 Officer Vogel's control center includes custom software for monitoring incidents state-wide.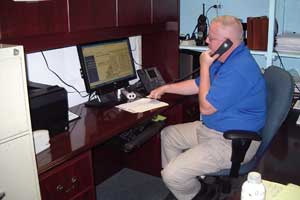 Captain Kately answers the phone during the County response to Hurricane Irene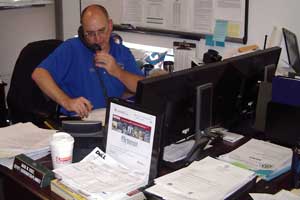 Officer Vogel takes a call.
Emergency Management Coordinator: Sheriff Michael F. Strada
Deputy Coordinator: Captain George Kately
Deputy Coordinator: Sheriff's Officer Mark Vogel, CEM
The Sussex County Division of Emergency Management (SCDEM) is a county-level emergency service under the Sheriff's Office. The division is responsible for coordinating all available resources to serve the needs of Sussex County during times of emergency events and disasters, much like the recent severe weather events that have affected our County and State. Sheriff Michael F. Strada serves as the Emergency Management Coordinator, with the assistance of Deputy Coordinators, Captain George Kately and Officer Mark Vogel, CEM.
In carrying out its responsibilities, the division oversees the emergency management activities of all county agencies and Sussex County's twenty four municipalities. Each municipality has an emergency management coordinator that communicates and interacts with both the division and at the local level through police departments, fire, EMS, public works, public health, schools, and other community members.
The Division of Emergency Management executes all emergency functions in a four-phase comprehensive emergency management model. The phases include mitigation, preparedness, response and recovery.
SCDEM also provides training and educational programs including personal emergency preparedness, access and functional needs and incident command for responders. The division also oversees two community alert programs, Outbound 9-1-1 and Register Ready, to assist the public with emergency planning.
For additional information or assistance, please visit the Sussex County Sheriff's Office Division of Emergency Management website, or contact them at 973-579-0380.