TRIAD Organization's 1,000th Wristband
Release Date: August 05, 2016
Sussex County Sheriff's Office/TRIAD Organization's 1,000th Wristband
Sheriff Strada is pleased to announce that the Sussex County Sheriff's Office/TRIAD Organization recently distributed its 1,000th wristband. Ms. Eunice Howley of Andover Township recently received the organization's 1,000th wristband which marks a milestone of the program since its inception in April of 2014.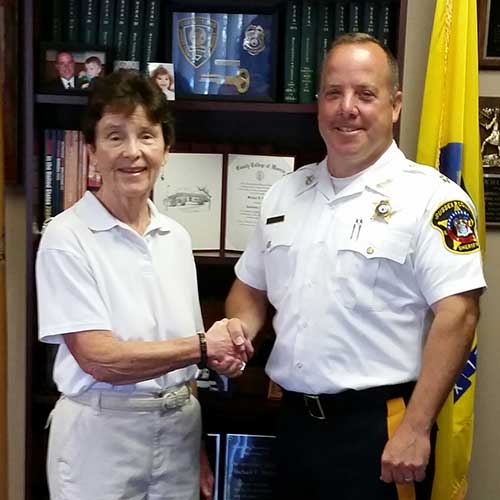 Eunice Howley, Sheriff Michael F. Strada
The Sussex County Sheriff's Office/TRIAD organization provides silicone wristbands, black and gold in color, that are engraved with the Sussex County Sheriff's Office name and telephone number along with a registration number to the citizens of Sussex County, free of charge. This registration number corresponds with emergency contact information which can be provided to a first responder within Sussex County identifying the citizen in need who may be unable to communicate with the responder.
Several businesses and individual donors are sponsoring the cost of the program. The successful implementation of this program was made possible, in large part, thanks to the generous donations of the following Sussex County businesses.
The Senior Quality of Life Foundation
Iliff-Ruggiero Funeral Home
Smith-McCracken Funeral Home
Arthur J. Gallagher & Company - George Morville
The Mitchell Agency
The Hampton Diner
Deacon Homes
For more information, or to obtain a wristband free of charge, please contact the Sussex County Sheriff's Office at 973-579-0850 ext 2114.