April programs at the Sussex County Libraries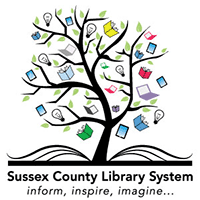 April Is a Busy Month at the Sussex County Libraries
Newton, NJ - April is a busy time at the Sussex County Libraries, with a variety of programs for all ages and interests.
The month kicks off with Shaking Your Family Tree - For Free!, at 2:00 p.m. on April 1st at Main Library in Frankford. Local genealogy enthusiast, Catherine DiPietro, presents methods for researching family history using a variety of free resources available through the library and online. Adults are invited back to Main Library every Monday from 2:00-4:00 p.m. for Monday Fun Days, an opportunity to rediscover classic board games while making new friends.
Teens have an opportunity to show off their singing, songwriting, poetry or other special talents at a Teen Coffee House at the Sussex-Wantage Branch in Wantage on April 5 at 6:00 p.m. Audience members of all ages are welcome to attend. Teens are also invited to the Main Library in Frankford the 2nd and 4th Saturdays of each month at 2:00 p.m. for Onigiri Animanga Club meetings. Members share their favorite manga and anime, and newcomers are always welcome.
Older teens and adults needing help with job search and interview skills can attend free Job Search Workshops, CareerLabs, and LinkedIn 101 networking seminars throughout April at several locations. Dates, times, and details are available through the Events Calendar link at sussexcountylibrary.org, or by calling or visiting your local Branch.
Children in first grade and above are invited to Meet the Masters, a hands-on art program that introduces a different artist each month, followed by an art project incorporating the artist's distinct techniques. The artist for April is Wassily Kandinsky. Meet the Masters will be held at the Dennis Branch in Newton on April 10 at 6:30, Sussex-Wantage Branch in Wantage on April 12 at 4:30, the Louise Childs Branch in Stanhope on April 18 at 4:00 p.m., and Main Library in Frankford on April 22 at noon.
The Finch is a small robot that inspires children to learn computer science by allowing them to immediately see the results of their coding in the way the robots react and move. On April 11, students in grades 1-5 are invited to the Louise Childs Branch in Stanhope at 4:00 p.m., and the Dorothy Henry Branch in Vernon at 4:30 p.m., to work with the Finches; programming them to sing and move through a maze.
The Finch Robots are the latest in a series of S.T.E.A.M. into the Library events held monthly at alternating Branches of the Sussex County Library System. Each child will have their own Finch Robot to program, so class size is limited and registration is required. Full details and registration are available through the Events Calendar link at sussexcountylibrary.org or by stopping at the Branch.
A four-week series of Lapsit, Read & Play, and Preschool story times will be held at each Branch beginning the week of April 24. There will also be regular meetings of Minecraft, LEGO, and American Girl Clubs, Read-to-a-Dog programs and much, much more. Details, dates, times and registration are all available at your local Sussex County Branch Library or through the Events Calendar link at sussexcountylibrary.org

.