January is National Radon Action Month
Release Date: January 02, 2018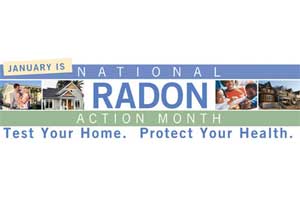 January is National Radon Action Month! The U.S. Environmental Protection Agency (EPA) encourages all Americans to test the air in their homes for the presence of radioactive radon gas.
Testing your home for radon, and fixing it when needed, is one of the easiest ways to help keep your family safe and healthy. Reducing exposure protects families, saves lives, and avoids the health care costs of radon-induced lung cancer. A home with a reduced radon level is safer for all future occupants.
Each year about 21,000 Americans die from lung cancer caused by exposure to radon gas. Radon is naturally present in the ground nearly everywhere. Radon is odorless and invisible and is the second leading cause of lung cancer. If you smoke and are exposed to radon, your chances of getting lung cancer could be 10 times higher than your risk from smoking alone. Testing is the only way to know the radon level in your home's air.
Do-it-yourself radon test kits are affordable and readily available, or you can hire a qualified testing professional. The U.S. Surgeon General and EPA recommend you fix your home when the level of radon is 4 picocuries per liter (pCi/L) of air or greater. A qualified radon contractor can install an affordable mitigation system to reduce the radon level.
Taking action to reduce your exposure to radon is a long-term investment in your health and your home. A working mitigation system is a positive selling point for your home. In many areas, testing for radon is a standard part of real estate transactions. If you are building a new home, work with your builder to ensure radon-resistant features are included.
For more information on testing, test kits, fixing your home, or finding a qualified radon professional, contact your state radon office or call 1-800-SOS-RADON.
The National Radon Action Plan, a public-private partnership launched in 2015, has set a goal of preventing 3,200 lung cancer deaths annually by 2020. Visit www.epa.gov/radon to learn more about radon and this partnership. Make 2016 a healthier, safer new year. Test your home for radon.