"Engage at Every Age" A Celebration for Older Americans Month
Release Date: March 26, 2018
"Engage at Every Age" A Celebration for Older Americans Month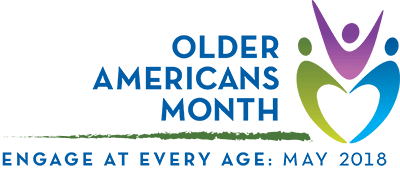 (Branchville, NJ) The Sussex County Department of Health and Human Services, Division of Senior Services, Iliff-Ruggiero Funeral Home, and Selective Insurance are excited to recognize older Americans during our annual Older Americans Month Celebration. Please join us on Friday, May 11, 2018, at Selective Insurance in Branchville, NJ, from 8:30 a.m. to 2:30 p.m., for a day filled with information, education, comradery, and entertainment.
Across the country, older Americans - a rapidly growing population - are taking part in activities that promote wellness and social connection. They are sharing their wisdom and experience with future generations, and they are giving back to enrich their communities. They are working and volunteering, mentoring and learning, leading and engaging.
Older Americans Month (OAM) has been observed for 55 years to recognize older Americans and their contributions to our communities. Led by the Administration for Community Living's Administration on Aging, every May offers an opportunity to hear from, support, and celebrate our nation's elders. This year's OAM theme, "Engage at Every Age," emphasizes the importance of being active and involved, no matter when or where you are in life. You are never too old (or too young) to participate in activities that can enrich your physical, mental, and emotional well-being.
The educational life-enrichment programs this year include: Project Healthy Bones by the Sussex County Division of Senior Services; Smart Phone Basics by Kaitlyn Hammerle of the Division of Senior Services; Pedestrian Safety by Trans Options; Your Health and You - What You Need to Know About Taking Control of Your Total Wellness by the Center for Prevention and Counseling; and, Rock Painting by Lori Space Day from Space Farms. Each program is conducted by a local agency that is committed to enhancing the lives of Sussex County seniors.
Each year the Division of Senior Services looks forward to recognizing our older Americans by providing them with engaging programs that are not only educational but fun. Space is limited; therefore pre-paid registration ($5 per person) is required. Checks should be made payable to "Senior Services Trust Fund" and submitted to Sussex County Division of Senior Services, One Spring Street, Newton, NJ, 07860. Please contact the Sussex County Division of Senior Services at 973-579-0555, ext. 1277 or seniorservices@sussex.nj.us for additional information.