James R. McDonald III is Appointed Health Officer for the County of Sussex
Release Date: October 16, 2017
James R. McDonald III is Appointed Health Officer for the County of Sussex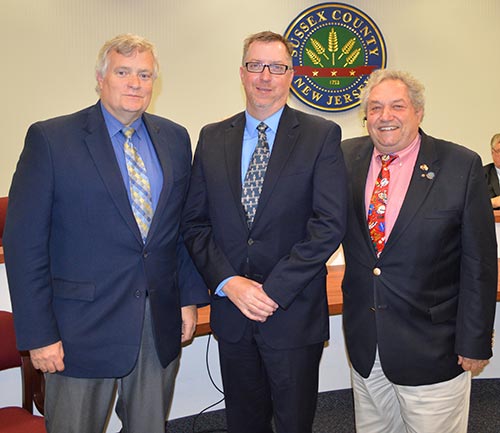 The Board of Chosen Freeholders appointed James R. Mc Donald, III, M.S., as Health Officer to provide local public health services for the County of Sussex
Freeholder George Graham, James R. Mc Donald, III, M.S., Health Officer, Freeholder Director Carl Lazzaro
(Hardyston, NJ) James (Jim) R. McDonald III, Acting Director of the Division of Health, was appointed Sussex County Health Officer during the October 11, 2017 Freeholder Meeting. Jim, employed by the County's Health Division since 1990, is a licensed Health Officer through the State of New Jersey. When asked how he felt about his recent appointment, Jim stated, "I am very grateful to the Board of Chosen Freeholders for this opportunity to implement my education and experience obtained here in Sussex County. To continue the work of promoting and protecting public health on behalf of our residents as their new Health Officer is quite an honor."
McDonald has a robust background in Health, which includes supervising staff who perform public health, mosquito control, air, noise, water, solid waste, and hazardous substance investigations. He served as the County Right to Know Coordinator, helped as a County Hazmat Team Leader, and is a Member of the County's Domestic Terrorism Taskforce to provide planning for Public Health Emergency Support Functions. Jim received his Bachelors of Science in Environmental Planning from Cook College at Rutgers University, his Masters of Science in Biology from East Stroudsburg University, and will soon complete his Graduate Certificate in Public Health, also from East Stroudsburg University. He has numerous Health related training certifications and is a member of various Health related local, state, and federal boards, associations, and centers.
Jim's interest in public health extends beyond the County Health Division. In his spare time, he has served as a Fire Instructor at the Sussex County Public Safety Training Academy, a Basic Life Support Instructor for Newton Medical Center, and has provided emergency care and transportation for injured skiers and snowboarders as a Professional Ski Patroller.
The Sussex County Department of Health and Human Services, Division of Health provides Environmental and Public Health services for the County and 24 municipalities. The required services of the Office of Mosquito, Special Child Health, Weights and Measures, and Chest Clinic are also provided through the Division.
Freeholder Director Carl Lazzaro stated that he put the stamp of approval on the marvelous work that Jim has done and thanked him for giving such great service to Sussex County. The Division of Health will continue its passion and commitment toward providing the best environmental and public health services to the County and its municipalities.