Promotions of Two Public Safety Telecommunicators at the Sussex County 911 Center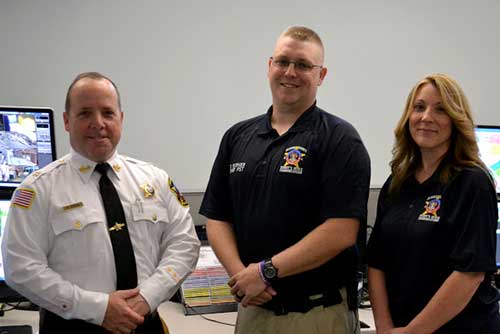 (L-R) Sheriff Michael F. Strada, David Korver and and Andrea Wehrenberg
Sheriff Michael Strada would like to announce the recent promotions of two Public Safety Telecommunicators at the Sussex County 911 Center.
David Korver of Hampton Township has been promoted to Chief Public Safety Telecommunicator. David has eight years of experience having previously worked for Hopatcong Borough and also Morris County Communications as a Dispatcher. David started working as a Public Safety Telecommunicator for Sussex County in 2011. In 2013 he was promoted to Supervisory Public Safety Telecommunicator. His new promotion took effect May 1, 2016.
In his new role he will be responsible for the oversight of the center when the Communications Director is absent as well as;
Overseeing the Supervising Public Safety Telecommunicators in their assigned tasks.
Analyzing work schedules, determine the need for special staffing considerations during crisis or special events, and managing the scheduling process.
Responsible for the agencies communications readiness in responding to emergencies.
Responsible to assure the operators are receiving proper training and maintaining certifications.
Drafts and keeps current all emergency response plans.
Schedules and assigns training for new employees.
When needed, operates a 911 position in support of regular Communications Center Operations.
Andrea Wehrenberg of Hampton Township has been promoted to Supervising Public Safety Telecommunicator. Andrea has twenty two years of experience and previously worked for the Town of Newton as a Dispatcher.
She will provide direct supervision to all the Telecommunicators. When required, handle emergency calls and dispatch emergency resources. Coach and mentor her subordinates to improve competency and proficiency.
Assign daily tasks to subordinates and evaluate them in their performance of duties.
Assist the Chief Telecommunicator, when necessary, with training and other responsibilities.
Both David and Andrea have been instrumental in the opening of our 911 Communication Center. Their experience, dedication, and commitment to our organization is clearly evident. They are both well deserving of their promotions.
Sheriff Strada states "We often forget that our Telecommunicators are the first ones to receive emergency calls and often times save lives over the phone by giving medical direction to those in need" "They all do a terrific job, often times handling extremely stressful emergency calls".