Authorized Messenger/Bearer Rules Change for November's Early Voters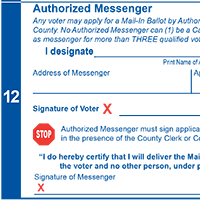 For those voters who cannot make it to the polls on Election Day, but who do not have enough time to apply by mail for a "Mail-In Ballot," they may authorize a messenger to apply on their behalf, messenger them their ballot, and then deliver their voted ballot to the County Board of Elections.
While use of "authorized messengers" has been in place for years, the law surrounding the number of voters for whom a person may act as an authorized messenger has been amended. Effective for the 2015 General Election, an authorized messenger may not serve as a messenger for more than THREE qualified voters (down from 10 under previous law). Likewise, where there was no limit to the number of voted ballots a "bearer" could return to the county, that number now is limited to THREE as well, and the voted ballots must be delivered to the County Board of Elections where the bearer will be required to present official identification before signing the mandated bearer log.
The changes in law are intended to preserve the chain of custody of Mail-In Ballots and help control and limit Vote By Mail "harvesting" operations. In addition to limiting the number of ballots handled by authorized messengers and bearers, the law also modifies the conviction standard for violations by messengers and bearers.
To qualify as an authorized messenger and bearer for qualified voters ...
Person must be a registered voter in the county or a family member of the qualified voter.
Person CANNOT be a candidate in the election for which the voter is requesting a Mail-In Ballot.
Download a Vote By Mail Ballot Application. The voter authorizes a person to act as an authorized messenger by completing and signing Section 12 of the application. The authorized messenger will be required to present photo ID and apply his/her signature to Section 12 in front of the County Clerk or his designee at the time of application.
Feel free to call the Clerk's Office with any Early Voting questions you may have (973-579-0900, ext. 1507).