Swift911 Community Alerting System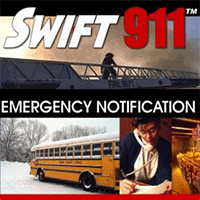 Swift911™
Sussex County's Division of Emergency Management has the ability to notify all Sussex County residents in the event of an emergency through its Swift911 system. When activated by officials, this automated system calls homes and businesses in the affected area and delivers a recorded message to notify the public about the emergency and what actions they may need to take. The system will be used for the following types of events:
missing person alerts
emergency evacuations
local security and crime alerts
weather emergencies
hazardous materials events
All landline telephones serviced by Verizon, Embarq and Warwick Valley Telephone (WVT) are already in the system, however, cell phone and some VOIP phone numbers are not. If you would like to provide additional methods of contact, update your information or remove yourself entirely, please utilize the link below. In the event of an emergency, if you have opted to provide additional methods of contact, you will receive multiple notifications.
If you signed up with one of the older notification systems, you need to re-register with Swift911.
Visit the enrollment page to register or update your information.