2015 Municipal Alliance Volunteer of the Year
Established in 1989 the Governor's Council on Alcoholism and Drug Abuse has provided communities throughout the State of New Jersey with funds to provide alcohol, tobacco, and other drug abuse prevention programs through the Municipal Alliance program. The success of the Municipal Alliance program is dependent upon the tireless commitment and efforts of the volunteers who represent each Municipal Alliance. Each year one volunteer from among the 11 Municipal Alliances is recognized for their outstanding achievements on behalf of their individual Alliance.
For 2015 the County of Sussex has chosen Ms. Lisa Frisbie of the Sussex/Wantage Municipal Alliance Committee as their 2015 Municipal Alliance Volunteer of the Year. On October 14, 2015 Ms. Frisbie was presented with a proclamation from the Sussex County Board of Chosen Freeholders in recognition of her selection as the Sussex County Municipal Alliance Volunteer of the Year.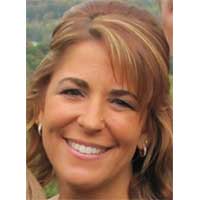 Since its inception, Ms. Frisbie has been a strong advocate for the Sussex/Wantage Municipal Alliance and brings a passion and excitement to the committee that is unmatched. In addition to her commitment to Municipal Alliance, she has been a Health Educator for 11 years, a substance abuse counselor for 9 years and a guidance counselor for 5 years. She was an Anti-Bully Specialist for 2 years and an Anti-Bully Coordinator for 2 years and has taken a very active role in the county Anti-Bully Specialist/Coordinator's monthly forums at the Center for Prevention and Counseling in Newton, NJ. Ms. Frisbie has done volunteer work with the Sussex County Traumatic Loss Coalition where she has responded to counseling needs in times of crisis, such as Hurricane Sandy or when there is a loss in a community. She also served on the Sussex Wantage Board of Education for 6 years and has coached recreational and school cheerleading teams intermittently for over 25 years.
Lisa grew up in Wantage and returned at the age of 27 to raise her family and continue her career in Sussex County. She is the very proud wife of Art Frisbie and mother of 3, Brittany (25), Ashley (24), and Chad (14). She also volunteered as a Sunday School Teacher for 7 years and has been a member of the Wanderers Car Club for over 20 years.
The 11 Municipal Alliance Committees represent 21 of the 24 communities in Sussex County. They are:
Action Municipal Alliance serving Andover Borough, Andover Township, Green and Newton;
Central Municipal Alliance serving Branchville, Frankford, and Lafayette;
Hardyston/Franklin Municipal Alliance;
Hopatcong Municipal Alliance;
Lenape Valley Municipal Alliance serving Byram and Stanhope;
Ogdensburg Municipal Alliance;
Sandyston/Montague/Walpack Municipal Alliance;
Sparta Municipal Alliance Resource Team (SMART);
Stillwater Municipal Alliance;
Sussex/Wantage Municipal Alliance;
Vernon Municipal Alliance.
Each Municipal Alliance consists of members from the community it serves. They are volunteer-driven committees dedicated to providing substance abuse prevention programs and activities within their communities. If you would like more information about the Municipal Alliance in your community or to volunteer for your Municipal Alliance Committee or one of the county committees that oversee the program, contact Nick Loizzi, the Sussex County Municipal Alliance Coordinator at (973) 940-5200 ext. 1383.
---