SEQUAL Sponsors Sussex County TRIAD Wristband Program
Release Date: May 15, 2014
Donations Sponsor Sussex County TRIAD Wristband Program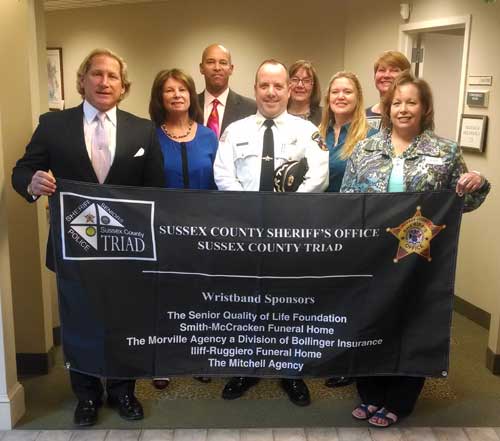 (l-r) Louis R., Ruggiero, CEO Iliff-Ruggiero Funeral Home, Trustee; Maryann Fox, Trustee; Tom Caines, President and Trustee; Sussex County Sheriff Michael Strada; Maryanne Klenke, Trustee; Lorraine Hentz, Trustee; Cindy Peterson Treasurer and Trustee; Denise Minimi, Secretary and Trustee.
Sheriff Michael Strada recently accepted a donation on behalf of the Sussex County TRIAD organization from The Senior Quality of Life Foundation. Their donation is helping to sponsor the Wristband Program recently implemented by Sussex County TRIAD. The Senior Quality of Life Foundation's (SEQUAL) mission is to help provide programs and activities for Sussex County seniors. In addition, SEQUAL's mission is also to the education of seniors, their families and the community about resources available in Sussex County which enhance the quality of the lives of our senior citizens.
Sussex County TRIAD is able to provide seniors in Sussex County with a silicone wristband that is engraved with the Sheriff's Office telephone number and an individual registration number. Should the person wearing the wristband become incapacitated and unable to communicate, the first responder can contact the Sheriff's Office Communications Center and be provided with emergency contact information pertaining to the citizen. It is because of the Senior Quality of Life Foundation, as well as the other local sponsors, that this program is made possible at no expense to the senior citizens of Sussex County.
Sheriff Strada would also like to thank Smith McCracken Funeral Home, The Morville Agency, a Division of Bollinger Insurance, Iliff-Ruggiero Funeral Home and The Mitchell Agency for sponsoring this program.
If you are interested in learning more about the program, please contact Hilary Manser at 973-579-0850 ext 2114.