Primary Election is June 3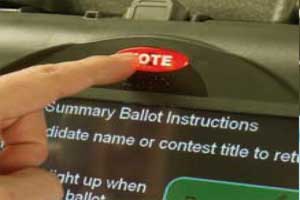 The Sussex County Clerk's Office will again offer early voting for the June 3 Primary. Vote-by-mail (VBM) ballots are currently available by filling out an application and returning it to the Clerk's office. Mailed applications for VBM ballots must be received by the Clerk no later than Tuesday, May 27. After that date, voters can come into the County Clerk's Office and vote in-person up to 3 p.m. Monday, June 2.
Vote-By-Mail Applications can be downloaded from the Clerk's website or picked up in person from the Clerk's Office at 83 Spring St., Suite 304, in Newton.
The last day to register to vote for the June Primary is May 13. Unaffiliated voters can choose to align themselves with one of the two major parties by voting in that party's primary.
On the Federal level, four little-known Republicans submitted petitions in hopes of taking on Democratic Sen. Cory Booker in the November General Election. None of the four has held elected office. They are West Orange businessman Brian Goldberg, Freehold IT professional Rich Pezzullo, Ramapo College finance professor Murray Sabrin, and conservative policy expert Jeff Bell.
In the race for U.S. House, 11th Congressional District, Republicans will choose between incumbent Rodney Frelinghuysen and Rick Van Glahn. The Democrats have a trio of candidates in Lee Anne Brogowski, Brian Murphy and Mark Dunec.
In the 5th Congressional District, Democrats will nominate either Diane Sare or Roy Cho, with the winner facing incumbent Scott Garrett of Wantage in November.
On the county level, William Weightman is running unopposed on the Democratic ticket for the single open Freeholder seat, while incumbent Philip Crabb finds himself in a race to retain the Republican nomination. Crabb squares off against Wantage Township Committeeman Ronald Bassani.
A complete list of candidates running for state, county and municipal offices is available at http://sussexcountyclerk.org/elections/voter-information/candidatesreferenda/.
Preliminary election results will be posted on the Clerk's website the night of the election.