Sussex County Healthcare Enrollment Day A Huge Success!
(Newton, NJ) The Sussex County Healthcare Enrollment Day, held at Sussex County Community College, on Wednesday, March 26, 2014, was a huge success. The event provided County residents an opportunity to learn more about their healthcare options and/or receive assistance with the actual enrollment process. The Sussex County Department of Human Services, NORWESCAP, US Department of Health and Human Services Region II, Newton Medical Center, Sussex County Community College and the New Jersey Hospital Association worked in collaboration to make this important event possible.
"Healthcare Enrollment Day" was open to all Sussex County residents without health insurance or for those residents who would like to explore other health insurance options through the Marketplace. Certified Applicant Counselors were available to answer questions and assist individuals and families in the enrollment process. Approximately, 90 Sussex County residents attended this event; of that number, 80 residents received counseling via healthcare.gov or njfamilycare.org and the remainder of individuals received general guidance on how to proceed with enrollment. According to Debbie McFadden, Dean of Student Affairs, Sussex County Community College, "I received many thanks from the residents who attended for the opportunity to be able to sit with a knowledgeable person who could answer questions and help navigate the system. All in all, I thought it was a big success!"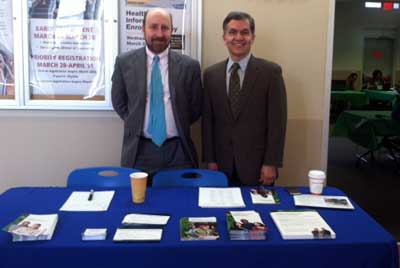 Frank Winter, Partnership Manager at Centers for Medicare and Medicaid Services (left) and Dr. Jaime Torres, Regional Director, U.S. Department of Health & Human Services
Dr. Jaime Torres, Regional Director, US Department of Health and Human Services Region II, reported that over a million people visited Healthcare.gov this past Wednesday and that as of Monday, March 24, 2014, 6 million people have enrolled in healthcare. Although the deadline to apply for health insurance is Monday, March 31, 2014, under President Obama's healthcare mandate, Dr. Torres wants residents to know that anyone eligible for Medicaid or NJ Family Care can enroll at any time throughout the year.
Increased access to healthcare and dental care was identified as one of the top priority areas in the 2012 Human Services Needs Assessment, completed by the Sussex County Department of Human Services. To address this priority area, the Department took the lead in providing this important service for healthcare enrollment to the community.
Terri Seibert, a Certified Applicant Counselor, who was on site at the College commented, "This is not only about enrollment, it is about building a strong community, a healthy community, and a community of caring." She has received numerous calls and emails from residents who came to the Healthcare Enrollment Day, thanking her for not only guiding them through the insurance process but also providing important linkages to human services in the community, including veterans services and employment services.