Sussex County Senior Juvenile Detention Officer McLean Retires After 11 ½ Years of Service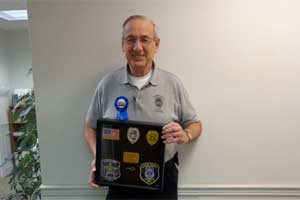 Senior Juvenile Detention Officer Andrew McLean retired from the Sussex County Juvenile Detention Alternatives Program, on December 31, 2013, after eleven and a half years of service. Officer McLean began his employment with the County of Sussex in August of 2002, working as a Juvenile Detention Officer at the Sussex County Juvenile Detention Center. For his first seven years, Officer McLean provided supervision for the JDC's residents, managed resident conflicts, and acted as a mentor to both residents and the younger staff.
When the Juvenile Detention Center closed in December 2009, Officer McLean immediately transitioned to the Sussex County Detention Alternatives Program, where he worked for four years until his retirement. Officer McLean worked with and mentored youth that were placed on Detention Alternatives. He completed daily home supervisions ensuring juvenile's court ordered compliance/ program compliance which included; monitoring conditions of probation, monitored client's whereabouts through BI tracking system using GPS ankle bracelets, and supervised youth while completing court mandated community service. Additionally, Officer McLean conducted secure custody transports to all detained Sussex County youth in the Morris County Juvenile Detention Center.
Officer McLean's supervisor, Mark Turtur comments, "You could always count on Andy. His dedication to the job and to his fellow co-workers is something that will be hard to replace and be truly missed." The Department of Human Services, Division of Community and Youth Services staff wishes Andrew McLean a happy retirement and all the best for the future.