Champions for Charity Kicks-Off Fourth Year
Release Date: November 16, 2012
 Champions for Charity Kicks-Off Fourth Year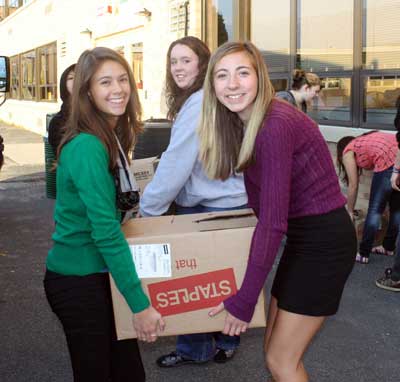 The students and faculty at the Sussex County Technical School kicked off the fourth year of Champions for Charity on the 23rd of October.  They filled a Sussex County Skylands Ride bus with 3,060 pounds of food to help keep the Department of Human Services, Division of Social Services food pantry stocked.  The National Honor Society led the effort by hosting hat days and shop competitions to encourage donations.  County Clerk Jeff Parrott, food pantry coordinator Lisa Parrott, Social Services Director Carol Novrit, and Skylands Ride Program Coordinator John Jackson were on hand to congratulate students and help stuff the bus.

Students and faculty countywide have raised over 200,000 pounds of food through the Champions for Charity initiative since its inception three years ago.  Champions for Charity has evolved into a vital lifeline for so many individuals and families who have been struggling to survive in this economically challenging environment.  In essence, it is simply neighbors helping neighbors through some very tough times.

The Social Services food pantry helps to feed residents throughout the County who may have no other options available to them.  The pantry also serves as a resource to local pantries struggling to maintain an adequate supply of food for area residents.

All ten Sussex County high schools are scheduled to host a food drive once again this year.  The consistent enthusiasm, hard work and generosity of students, faculty, and families have deeply touched all of us and will in turn touch the lives of countless residents throughout Sussex County who will receive the food and assistance they so desperately need.
 


High School                                            	Collection Date
Sussex County Technical School                  	October 23, 2012
Sparta High School                                      December 6, 2012
Lenape Valley Regional High School            		December 11, 2012
High Point Regional High School                   	December 18, 2012 
Wallkill Valley Regional High School            	March 19, 2013
Pope John XXIII Regional High School         		March 21, 2013
Newton High School                                      March 26, 2013
Kittatinny Regional High School                    	April 16, 2013
Vernon Township High School                       	April 30, 2013
Hopatcong High School                                  	May 7, 2013
Any business or resident who would like to contribute to Champions for Charity and assist in waging this war against hunger is encouraged to contact their local high school, or they may call Carol Novrit, Director of Social Services, at (973) 383-3600 ext. 5152.

If anyone is in need of food for themselves, their family or their pets, they can stop by the Division of Social Services, 83 Spring Street, Suite 203, Newton, NJ, on Monday through Friday, between 8:30 a.m. and 4:30 p.m.  The Division may be contacted by phone at (973) 383-3600.  No appointments are necessary.