Time to Wear Red... It's American Heart Month
(Hardyston, NJ) It's February and time to celebrate American Heart Month, an annual awareness campaign acknowledging efforts in the prevention of heart disease! During this month long awareness event, you can learn how to can make healthier lifestyle choices in order reduce your risk of developing the disease that is the number one killer of Americans. Please join the Sussex County Board of Chosen Freeholders, Sussex County Division of Health and Sussex Warren Chronic Disease Coalition, in conjunction with Go Red for Women, to kick off American Heart Month by participating in "National Wear Red Day" on Friday, February 3, 2017.
The symptoms of heart disease in men and women can often be very different and Go Red for Women focuses their efforts on "dispelling the misinformation about women and heart disease." This national campaign was first created by the American Heart Association and the National Heart, Lung and Blood Institute in 2003 and today is known as Go Red for Women. National Wear Red Day is an extension of that campaign and every year on the first Friday in February, Americans nationwide wear red to show their support for women's heart disease awareness, either by wearing a favorite red dress, shirt, tie, Red Dress Pin or simply something red.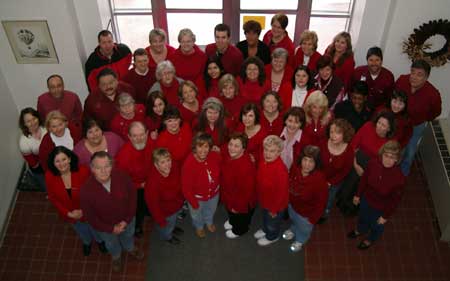 According to the Centers for Disease Control and Prevention (CDC), heart disease is the leading cause of death for both men and women in the U.S. However, the good news is that it can be prevented and controlled. You can take these steps to help prevent heart disease, in addition to, managing existing medical conditions, simply by making healthier lifestyle choices.
Learn the warning signs of heart attack and stroke.
Schedule regular checkups with your health care professional.
Keep track of your blood pressure, cholesterol and weight.
Don't smoke. If you do smoke, stop.
Eat a balanced diet that is low in saturated, trans fats and sodium.
Be physically active.
Limit your alcohol intake.
Please join us to promote this awareness movement throughout Sussex County by wearing a red dress, shirt, tie, or Red Dress Pin on Friday, February 3. More information about heart disease will be available in all Sussex County libraries during the month of February. For more information about heart disease, please visit the American Heart Association at www.heart.org

. To learn more about National Wear Red Day, visit www.goredforwomen.org

.