Susan Bowman accepting the 2010 Distinguished Service Award from Suzanne Rosen
CSA Recognizes Freeholder Director Jeff Parrott and Susan Bowman
The Sussex County Council of Service Agencies (CSA) honored Susan Bowman and Freeholder Director Jeff Parrott for their contributions to human services at their meeting in Augusta on the 8th of December.
Freeholder Director Parrott received the Council of Service Agencies' Friend of Human Services Award for his substantial contributions to feeding the hungry in Sussex County. He created Champions for Charity in 2009 after looking for a way to provide food for the County's neediest residents throughout the entire year and not just around the holidays, which is when many food drives take place. Working with area high schools, the Champions for Charity program established ongoing competitive food drives, which have become a huge success.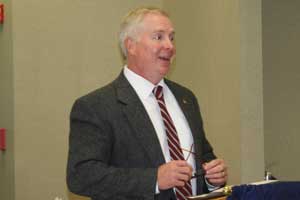 Freeholder Director Jeffrey Parrott accepts the Friend of Human Services Award
Every year since 1987, the Council of Service Agencies has recognized a worthy candidate for their services by presenting them with a Distinguished Service Award. Susan Bowman, the Assistant Administrative Supervisor of Family Services at the Sussex County Division of Social Services, was the 2010 Distinguished Service Award recipient. Ms. Bowman has dedicated her life to the field of Social Work. She was recognized for her dedication in providing preventative and rehabilitative services to maximize decision making skills and promote self-sufficiency in the lives of those living in poverty. Ms. Bowman was also honored with a Proclamation by the Sussex County Freeholders during their open public meeting on December 15, 2010.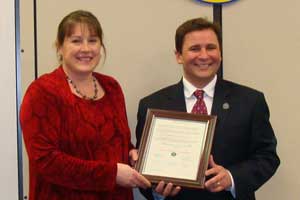 Susan Bowman accepting the Proclamation from Freeholder Richard Zeoli
The Council of Service Agencies is a collaborative group of human services agencies whose primary focus is to share valuable information in an effort to provide comprehensive services to those in need.
The Sussex County Department of Human Services, Division of Social Services would like to thank Freeholder Director Parrott and Susan Bowman for the dedication and commitment they humbly provide each and every day to improve the lives of others.